Shardettes/Three Houses/Three Spires [major London Bridge development by Sellar & Herzog & de Meuron]
dee dee
Thursday 11 December 2008 8.36am
Total madness - can they shoe horn anymore people into such a small area of London. What about all the other services such as doctors, dentists, schools etc. Lets hope the current economic downturn puts an end to thier madcap plans.
coogie
Thursday 11 December 2008 8.26pm
They could redirect the overflows from Leathermarket Court to fill up the Lido
not sure how it works ( something to do with transferring ownership i think )

property developing pays its profit to the developers even it stays vacant

eg Empire State Building or Centrepoint - both empty for a year at least after they were finished



plus - as long as they planned for this part of the business cycle - they wont need to borrow and theyll probly be able to build at a lower cost
urbanite
Wednesday 17 December 2008 9.51am
What a stupid plan this is....out of character buildings, overcrowding, loss of open space (for a lido which they could build into the building itself)...this has to be a spoof as it is so bizarre or if not then as dee dee said "total madness".
I think it sounds like quite an interesting proposal, although I'd be surprised if they can finance it in the current market. Since SE1 is very much a part of central London I think building density is only likely to increase and we need good buildings and plans to ensure that they work with the existing buildings, infrastructure, etc.
The Shard
will give these buildings context although I can imagine walking up Bermondsey St. to LB and seeing an 80 story building would be a little odd!
MiltonF
Wednesday 17 December 2008 6.43pm
Sadly I couldn't get to the BSAP meeting to see these plans. Does anyone have any photo's of them, or know where we could see them again?

I've tried looking on Sellar's website and BSAP but nothing as yet.

Is it both the main car park and the little one where the Streetcars are? Are any of the existing buildings going, like the ugly Home Office building?
Looks like there could be quite an emerging cluster around St Thomas' Street.
As well as the three Sellar/Herzog & de Meuron towers, there is a screening opinion for a
28-storey tower of student accommodation
at the corner of St Thomas' Street,
Weston Street
and
Melior Street
where King's College London's
Capital House
currently stands: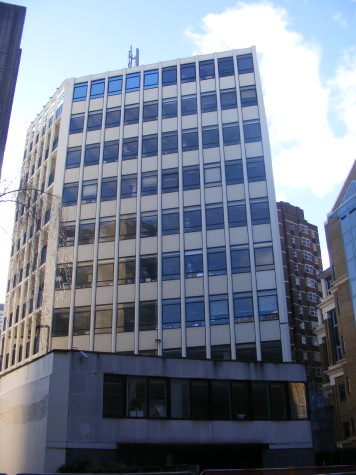 Davies
Wednesday 21 January 2009 12.00am
Oh for F**** sake!

This is what I was afraid of. One stupid great tower gets permission and now they think "Lets squash everything and make loads of money with lots more stupid great towers."
I hope the whole ruddy lot of them go bust.
urbanite
Wednesday 21 January 2009 9.52am
Got to agree here with Davies......and I'm sorry carmenes82....context...what context....1 tall building giving soemthing context is a bizaare comment which even I think you are aware of given you check yourself with the comment about it also looking a bit odd. The context is that the immediate area is very low rise despite the building of the Shard at LB. I really can't imagine a more ridiculous proposal for the site.

If the building(s) itself has merit, which I can understand and agree with, why not find a suitable site, maybe close to some of the very high rises around Canary Wharf/Isle of Dogs or even the North side of the City where there are proposals for high rise residential developments close to the existing Brabican towers.

Just because you have a piece of land doesn't mean you should be able to build as much on top of it as you want...and using the aesthetics of the individual building to disguise greed should be seen for exactly what it is.
To post a message, you must be a registered user. If you are already registered, please log in.