New Outdoor Cafe by Tower Bridge
I see that Most Cafe, currently located underneath the southern approach to Tower Bridge, has opened an outdoor area next door, overlooking the river and
Shad Thames
.
I definitely gets the morning and late afternoon sun (as the pics below show).
Has anyone tried it so far? Looks like a nice spot to enjoy a quiet glass of wine after work.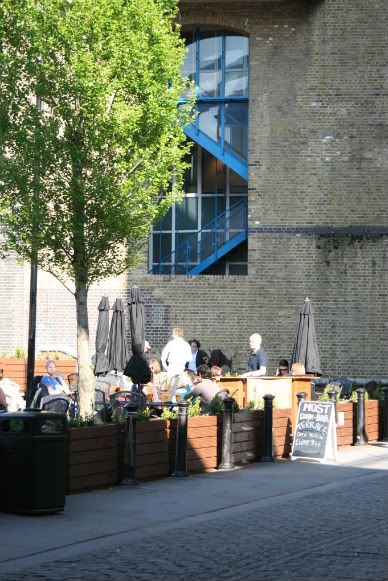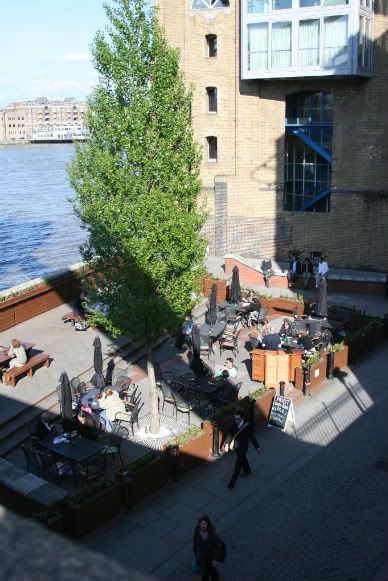 shaggy
Wednesday 29 April 2009 6.48pm
looks good. Always loved the view of the underneath of Tower Bridge from their windows. Good place to enjoy a secretive beer mid work day afternoon...
Yeah great, just what
Shad Thames
needs, somewhere else to get p*****. A nice change to Wetherspoons and
All Bar One
. Loving the classy planters too mmmm.
Yep - agreed. I used to enjoy stopping by the wall there to gaze at the view. Now its "can I help you sir?" - i.e. buy something or p*ss off!


I went the first day they put the seats outside. Service was a little disorganised, but they were very apologetic. Tapas are a bit on the expensive side for what you get.
Well there'll be a good view of the ssSilver Cloud coming out at 17.15 tomorrow:
I must say I am surprised that they are able to annex such an area for their own purposes, it does deny a large area to people who simply want to stroll and take in the view. I have no idea if any permissions are required or if the area is part of their rental agreement, if its not then it could be the thin edge of a very large wedge !
I gather they've had the lease for 3 years, but not used it till now. It looks very pleasant and Southwark have done nothing with a quite remarkable site. A tiny garden or playground would have been apt.
Colinio
Thursday 30 April 2009 12.39pm
If they do this for 28 days or more each year then they'll need to have secured full planning permission from
Southwark Council
...
McQueen
Thursday 30 April 2009 2.54pm
mark, if you walk about 25 feet to the left (facing the river), there's all the garden you could want in Potters Fields. as a city, we are truly impoverished (compared to others) in terms of opportunities to sit by the river and have a drink. loads of river frontage is private property, or "working" space, and the embankment architecture curtails most of the rest. and the latter provides plenty of opportunity for people to "stroll and take the view". it's not a huge area and it was previously massively under-used. good on them - they've bought a little bit of the continent to our patch of Blighty!
To post a message, you must be a registered user. If you are already registered, please log in.