SE1 kerbside book exchanges
phoney
Thursday 24 May 2012 3.36pm
There are 10 books on the shelves in london-se1 photo in the feature:
http://www.london-se1.co.uk/news/view/6029
Today on passing there are only 4.
Too early to draw conclusions or is it a good idea?
If the Trinity Sq. 'bookstall' is anything to go by,it will just have a selection of titles nobody wants and most likely were never read.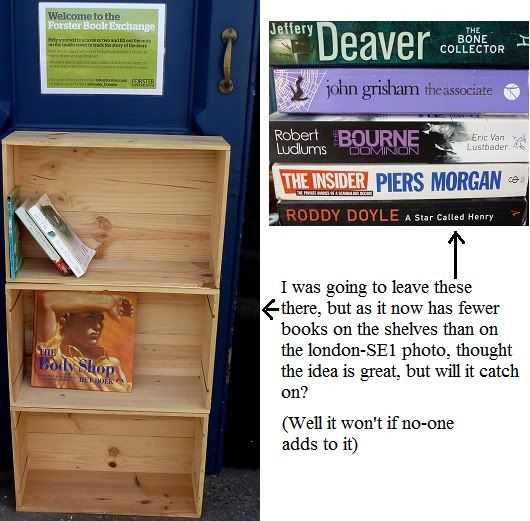 ---
Zoe
Thursday 24 May 2012 9.28pm
No one will take Piers Morgan, leave it there to fill out the numbers.
The Piers Morgan book is quite amusing. He's one of the great clairvoyants. I think I heard that correctly.
I say go for it - it's a great idea. I have left and taken books at the Rocketvan bookshelf. If you register them on bookcrossing.com then you might even one day find out where they go...
Davies
Friday 25 May 2012 12.08am
Where did you get the nice boxes?
ChloeB
Saturday 26 May 2012 12.17pm
Does anyone know if they have it there on the weekend? I am going to drop a few things by asap.
To post a message, you must be a registered user. If you are already registered, please log in.