Road closures for Thames Diamond Jubilee Pageant
Zoe
Saturday 26 May 2012 9.56pm
I see from the jubilee website that south of the river is closed from 11am but the signs on
The Cut
say closed from 7am (unless I misread). The website also says residents should carry a utility bill, do people interpret that as being in all of the coloured area on the map? I wasn't sure if closed meant just the red area or just closed to traffic and people can come and go (I presume they will close certain areas if it gets crowded and the proof is to be allowed to still get through, though that may be a challenge!).
James will know the answer to this, he has preternatural powers when it comes to these things (and maybe the ability to concentrate better than me to read all of the small print on websites).
http://www.thamesdiamondjubileepageant.org/InteractiveMap.aspx
phoney
Sunday 27 May 2012 9.39am
Doing a few circuits of SE1 on the bike this beautiful morning, noticed that
Crosby Row
will be closed all day on the 3rd June.
And cyclists have right of way on
Tooley Street
due to roadworks.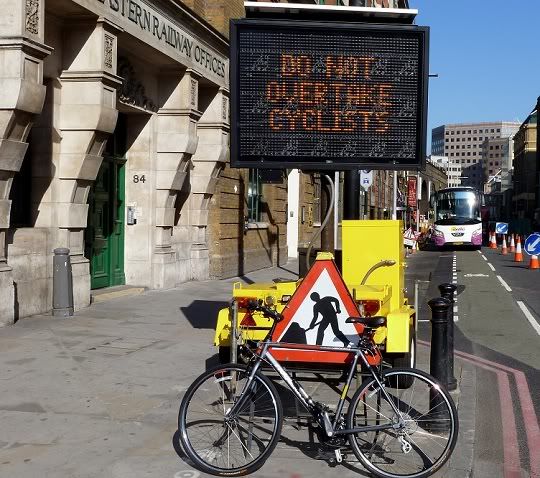 phoney
Sunday 27 May 2012 6.43pm
Oops! Should have done that.
According to the link in first post by
Zoe
we will only be able to watch from the ends of a couple of bridges. The central parts are reserved. I assume Bankside Press staff have a coveted 'access all areas' press pass.
There are only three bridges
(Lambeth, Westminster and Blackfriars)
where members of the public will be able to stop and watch the flotilla. It is only at the extreme ends of these three bridges that congregation is possible
Tower Bridge
will be closed to all traffic and pedestrians from 0700hrs until early evening and will host guests from charities and the riparian boroughs as well as private events hosted by the City of London.
Vauxhall, Waterloo and London bridges
will be open to traffic and pedestrians, apart from central section bridge closures as the flotilla passes underneath them at points between 1500 and 1730. They are all expected to be very crowded and the public sections are only open for the purpose of pedestrian and vehicle traffic, not for viewing.
Southwark Bridge
will be closed to pedestrians, but not to traffic.
Lambeth, Westminster and Blackfriars bridges
will be closed to traffic and pedestrians, but each will have north and south facing viewing screens, with both ends of both bridges open to the public. However, members of the public will need to be counted on to the bridge to comply with capacity and subject to bag searches to maintain security
Zoe
Sunday 27 May 2012 7.25pm
So you think the road closures around us are just for traffic? At least we'll have a quiet day!

Great picture by the way.
now i am totally confused...where can we see the flotilla in SE1?? answers on a postcard etc etc
Zoe
Sunday 27 May 2012 9.37pm
Along the river but not on the bridges.
While wishing Mrs Windsor a long and happy retirement, I've other plans that day and this is making it even harder than usual to get to Hackney.
Well I'm just confuseder and confuseder, but I will go and join the merry throngs and hope to get a glimpse of the boats. Or I'll stay home and look at telly.
Zoe
Monday 28 May 2012 8.07am
You could just cycle to Hackney, some bridges will open for through traffic, including London Bridge. Just take some ID so you can get back!
To post a message, you must be a registered user. If you are already registered, please log in.