Good job these guys are around...
robdee
Thursday 8 November 2012 12.58pm
...to fine people who park thoughtlessly and dangerously.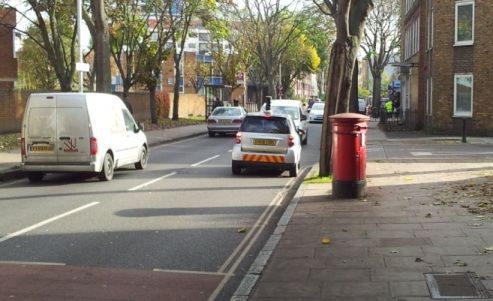 urbanite
Thursday 8 November 2012 1.06pm
and they would be?
robdee
Thursday 8 November 2012 1.16pm
Hmmm... I didn't think /sarcasm was necessary but perhaps I was too subtle.
While waiting for a bus on
Long Lane
I observed that Southwark Parking camera car pull up on the corner of
Staple Street
for about 5 minutes. He's on a corner, on double yellow lines, and very close to a bus stop. He was rotating his little camera around looking for naughty drivers who had parked badly to photograph and fine.
Do you see the hypocrisy?
He moved off only after I got my phone out and started taking pictures of his fabulous parking.
I'd send it to the council with a close-up zoom of the vehicle registration number. Hypocrisy of the highest order.
dee dee
Thursday 8 November 2012 3.33pm
presumably they were trying to catch people pulling up outside the shops looking at where they are "parked" and the way they are facing ( can't see why else they would have picked that spot?)?? one would have throught the road was wide enough there to allow people to pull up for a few minutes and go in the shop-would be good for the small shopkeepers as well

they should have been further down outside Tescos
urbanite
Thursday 8 November 2012 3.36pm
robdee...I wasn't trying to be sarcastic in the least

your title and comment left open any number of options to be discussed....way to subtle for me unfortunately...sorry
beetroot
Thursday 8 November 2012 4.50pm
I don't think it's hypocritical. It would be if it was just parking and not monitoring or taking pics. If the threat of being caught by this van acts as a deterrant it's worth it. However I do agree that you should be able to nip into the shops along there. I see cabs parked on double reds all the time yet this little stretch of
Long Lane
gets this. Daft.
Le Roi
Thursday 8 November 2012 6.57pm
beetroot wrote:

I don't think it's hypocritical.
The vehicle is clearly causing an obstruction to visibility as well as blocking the lane. This is more than inconsiderate. The purpose of the double yellows is to regulate this behaviour. The purpose of the van is to enforce the regulations. Halting the enforcement vehicle in this location is therefore hypocritical.
To quote the bard "Twice triple shame on Angelo, to weed my vice and let his grow!"
The cabbies are not enforcement officers who fine people so they cannot be called hypocrites for halting in similar circumstances.
To conclude: I think it is hypocritical and agree with robdee.
Thanks for posting the pic m8!
robdee
Thursday 8 November 2012 7.59pm
Urbanite... I meant I was being sarcastic with my thread title, apologies as it can be difficult to sense a tone in text form.

;)
Karen I
Thursday 8 November 2012 11.12pm
One of these vans used to park regularly outside my school in Lewisham. The school had to pay a fortune in fines because the mini bus had to pick up outside the school gates at start and end of day. There was no-where else to pick up because all the parking spaces were full. Some of the drivers used their common sense and understood that there was really no choice, others were quite 'jobsworthy' and rude.
To post a message, you must be a registered user. If you are already registered, please log in.