Queen's Buildings, Scovell Road
Debbs
Monday 25 February 2002 10.04am
I'm interested to hear from anyone who lived (or knows someone that did) in the Queen's Buildings, which used to be in
Scovell Road
(near
Southwark Bridge Road
). My dad lived there from 1926 to 1947, and I understand they were still standing in the 1960s. Especially interested to hear from anyone who knew the Fletcher, Valler or Noble families.
Two images sent in by a reader, Fred Start of Gravesend, which I thought were worth sharing.
Fred Start wrote:

Oct 16th is anniversary of landmine hitting this huge Victorian tenement complex
a] Southwark Bridge Rd end 1930s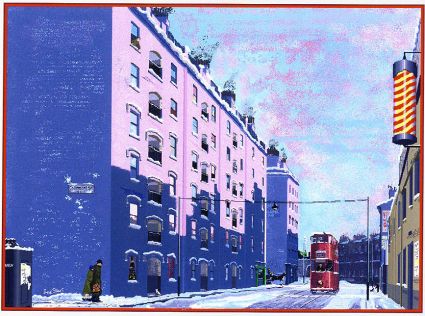 b] evening before next air raid following hit by landmine at Southwark Br. Rd end
You may have seen my illustrations of Queens Buildings next to your request. Can I provde anymore info for you . Fred start.
I may be able to help. Fred start.Tel 01474361917
Dear Fred

My grandfather used to live in Queen's Buildings. I would like very much to know more about that area.
Best wishes
I lived in queens buildings from birth 1955 until we were moved out(1970) for the demolition of the flats,i went to the local primary school Charles Dickens and then on to Laxon down Long lane.
Fred has sent in another picture:
The caption says:
Winter evening over north facing facade of Queen's Buildings, Collinson Street SE1 1930s.

The immediate foreground is incidental but an attempt has been made to show topographical features of Collinson Street and the southern ends of both Toulmin Street and Bittern Street.
BOST
Tuesday 8 January 2008 1.06pm
Bankside Open Spaces Trust
are running a project called Memory Gardening on 4 key estates in the area and we began on the Scovell Estate in October. We have knocked on every door at least once to ask residents what they think about their surroundings now and what improvements they might like to get involved in; beyond this, we have identified several people who have lived in the area for well over 40 years and lived in Queen's Buildings and were rehoused on the new estate all together. Perhaps we can ask them if they know the families you mention, Debbs. We shall be returning to many of these people to carry out recorded oral history interviews in the next few months with a view to using these in exhibitions and educational materials. We have a great core team of volunteers on the project but are always welcome more!
BOST website for more info:
Can anybody explain why the buildings were demolished and what now stands in their place? I would be very interested to know.
From
http://www.56a.org.uk/jam.html
:
Quote:

The Queen's Buildings tenements, an early example of model philanthropic housing built on the site of the old King's Bench prison, was by the mid-60's, one of the borough's most mouldering slums. In 1978, after close on fifteen years of struggle, tenants from the buildings had finally been re-housed in 2-storey houses and cottage-style dwellings on the pleasant and well-designed Scovell Estate, off

Borough Road
To post a message, you must be a registered user. If you are already registered, please log in.