Friday 3 December 2004 4.26pm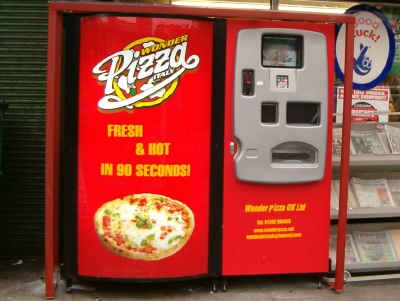 The overall rectilinear form of the piece surely refers to those conventions of western culture from which it seeks to break free - the picture frame, the city grid, the family dining table...
The background illumination of the left hand panel is a direct
homage
to "classic" pop art of the 1960s. The inspired text "Fresh and Hot in 90 seconds!", with its erotic suggestion, and the canny use of supergraphics surely rivals Richard Hamilton in its inspired creation of a sexy "preudo-Americana"
Is this critic alone in seeing the choice of fluorescent backlighting to the panel as an indication that this ostensibly "maximalist" work is in fact deeply indepted to the trail blazed by earlier minimalists such as Dan Flavin - and that it's creator desires us at the same time to be aware of this self-awareness.
By contrast the organic form of the cast metal, cruelly pierced by a series of orifices - as suggestive as the work of Louise Bourgeois - betoken some unknown creative/reproductive process within. These wounds in the body of the beast, through which the "observer as consumer" engages in the integral and essential performance element of this work are secret places.
One is faced with the same challenge as when confronted by the ancient
Bocca della Verità
in the narthex of
Sta Maria di Cosmedin
- dare one place one's hand in this yawning maw?
The anonymous artist refers ambiguously to the largest of these penetrations as "the vending slot" - a reference to the commodification of food, flesh and time in the early 21st century?
Edited 1 times. Last edit at 3 December 2004 4.27pm by Lang Rabbie.