Tuesday 17 October 2006 9.02am
I'd be very grateful for your help to test a new feature.
On individual restaurant/pub/bar pages logged-in forum users will now see a link to post a review.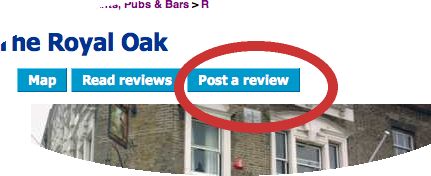 If you are not a registered, logged-in forum user you will not currently see any links to post reviews.
I'd be grateful if you could take a few minutes to post a few words about any local restaurants, pubs, cafes or sandwich bars you have been to recently.
It doesn't have to be a literary masterpiece - a couple of sentences would be great.
To get started just go to
http://www.london-se1.co.uk/restaurants/
and browse to your chosen restaurant/pub/bar
Once there are a few reviews in the system I will add links on the front page showing, say, the five latest reviews.
Features coming in version 2 include ratings and the ability to edit your own reviews.
Thanks.
As ever, comments welcome.