London SE1 10th Birthday Party!
Oops, I crashed yesterday's event, unaware (HONESTLY) that I'd enlisted for today's. So glad I did! Well done Lee and James, and Camilla, what a totally original and intriguing evening...only the totally involved in Se1 need go along. Thanks to everyone concerned.
janefs
Saturday 6 September 2008 11.32am
Many thanks to James and all involved in staging last nights 'events', it was intriguing and very enjoyable. I wish I had been able to turn up earlier, so a note to those going tonight, turn up at the start if you can, don't miss a minute.....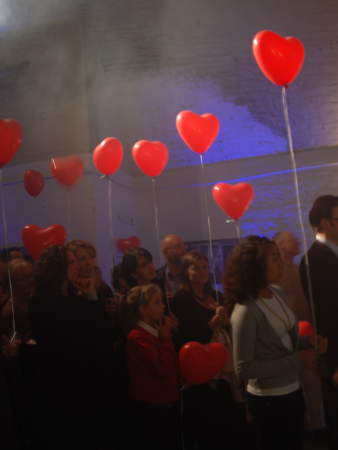 More pictures and full explanations tomorrow...
And just in case my post on the previous page gets lost:
James Hatts wrote:
maurits
Saturday 6 September 2008 12.26pm
I am suffering.
Thank you to everyone who came along - I'm sure it was a memorable experience if nothing else!
Full report, pics and thank-yous to follow, but above all, huge thanks to Camilla McGibbon and
Lightning Ensemble'
s Sarah Weatherall and Marie McCarthy and their team.
phoenix
Sunday 7 September 2008 11.03pm
It was a great happening.

Very much in the spirit of the creative hotbed that is SE1.

Many thanks to all involved.

Kevin
I am so sorry that I didn't make it, but I was still in the office even as it ended, owing to unforseen events. Actually, I wasn't entirely certain that I'd actually managed to sign up for Friday's event anyway... Glad it went well.
To post a message, you must be a registered user. If you are already registered, please log in.