The Olympic Torch Relay came to Southwark on Saturday, passing along the riverside from Tower Bridge to the Millennium Bridge.

The flame was preceded over Tower Bridge by a gospel choir on an open top bus
Swimmer Sharron Davies brought the flame from the north bank to the centre of Tower Bridge, where Sir Ian McKellan was waiting to carry the flame as far as
Tooley Street
.

Sir Ian McKellan carries the flame onto the south bank of the Thames

93 year old Fauja Singh carries the flame past City Hall
Fauja Singh, who at 93 was the oldest person to run the London Marathon back in April, carried the flame past
City Hall
where a steel band was playing. 5000 balloons were released from the Scoop, the amphitheatre next to
City Hall
.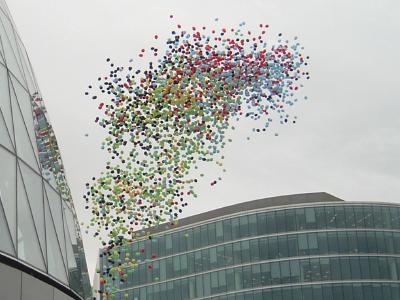 5000 balloons were released in The Scoop next to City Hall as the flame passed by
The bells of
Southwark Cathedral
rang out as the torch relay reached
Borough High Street
.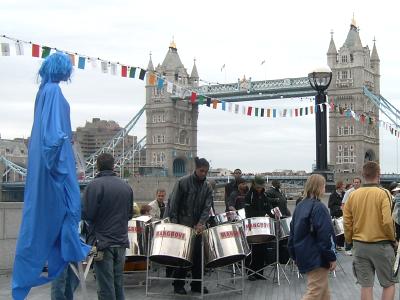 Stiltwalkers and a steel band added to the atmosphere at City Hall
Confusion reigned by the time the flame reached Bankside. Although the biggest crowds were on the riverside, local residents waiting on
Stoney Street
and
Park Street
were disappointed when the relay took an unexpected diversion to avoid parked cars.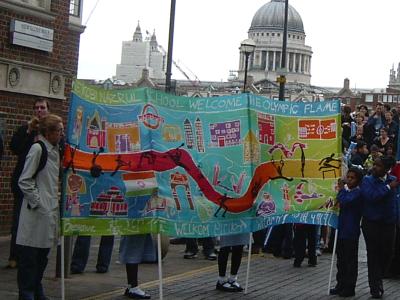 Children from St James's Primary School display their banner outside Shakepeare's Globe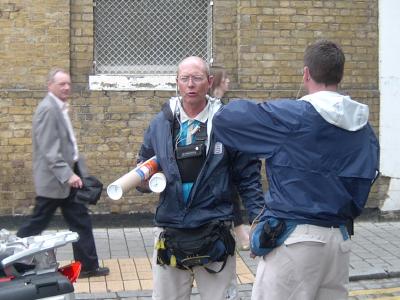 Relay officials hand over new torches for the next runners in Park Street
Meanwhile members of the Free Tibet campaign unfurled a banner from Southwark Bridge, which was soon removed by police as a hazard to navigation. Their protest was against the selection of Beijing as host city for the 2008 Olympic Games. The demonstration continued on Bankside where another banner was hoisted aloft.

The flame crossing the Millennium Bridge
Nell McAndrew was on the
Millennium Bridge
to take up the relay.

Crowds gathered on Bankside