Through pictures and words the exhibition charts changes to the South Bank and Bankside since 1984 - including the Coin Street neighbourhood.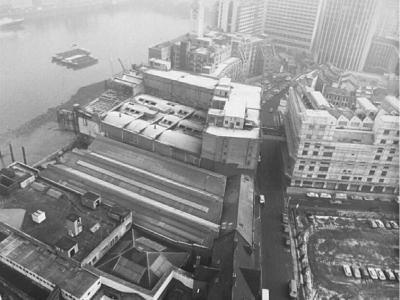 The Coin Street site in 1984
One resident recalls the drop in population after many people had been forced to leave in the late Forties and to make way for the Festival of Britain in 1951.
Around the time of the Queen's first Jubilee in 1977 the schools in Roupell Street and Cornwall Road both closed. Sainsbury's closed its Stamford Street shop and soon after the baker's in Roupell Street shut down.
Meanwhile, in nearby Meymott Street the campaigning SE1 newspaper was reporting a plan to build a massive chain of office blocks north of Stamford Street. Even the Oxo Tower was to be demolished.
This exhibition has numerous photographs of those times of struggle and then change as the Coin Street Community Builders began to fulfill the dreams of those residents who had not been forced out.
On show is the old Coin Street SE1 sign seen in so many photographs and fascinating maps showing the area from Elizabethan times. The riverside walkway is seen ending at the National Theatre and then later extended only as far as LWT. Upper Ground is depicted lined by warehouses with the road passing under a linking passage.
Old Barge House Alley was so narrow it was difficult for two people to pass and at the end there was a helicopter pad resting on two barges.
The exhibition will bring back many memories to older residents who remember when SE1 was far from fashionable. Those who have arrived in the past decade will also enjoy the historic film footage. Allow more than an hour for a visit.
• 20 Years of Change: South Bank & Bankside is at the Bargehouse behind Oxo Tower Wharf daily 11am-6pm until Sunday 8 August; free.