Comedian and TV presenter Kevin Day hosts a fundraising night at the Old Vic on Sunday night with an all-male lineup performing comedy and song to raise awareness of domestic violence.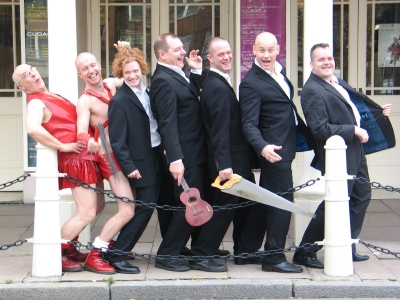 The lineup includes Simon Fowler (Ocean Colour Scene), Kevin Day (Comedy Store),Topping and Butch (rave reviews from Edinburgh), Earl Okin (musical genius and sex symbol), David Coulter (The Pogues), George Hinchcliffe (Ukelele Orchestra of Great Britain), Terry Alderton, Quincy, newcomer Andrew Lawrence and Sultan of the Surreal, Milton Jones.
No Slap Just Tickle is the first event of its kind, promoting the principles of respect, trust and tenderness in relationships.
It takes places at the Old Vic on Sunday 28 November at 7.30pm. Tickets range from £10 to £25 and all for a good cause. Call the Box Office on 0870 060 6628. Apart from the opportunity to rub shoulders with a star studded celebrity audience there will also be loads of fantastic prizes and give-aways.
Tender is a new movement to end domestic violence which has been created by the registered charity Until The Violence stops. It aims to raise consciousness and challenge abusive behaviour using edcuation, the arts and social awareness. Tender's Director Tamsin Larby describes how as a social taboo we need men to introduce the subject and create a framework within which domestic violence can be discussed and elevate the inherent strength conveyed by the gentler side of masculinity as well as make violence a weak and unacceptable choice.
No Slap Just Tickle is produced by Tender with the support of the Mayor of London and in association with the Metropolitan Police.