A small but important exhibition The British Pub and The Hop Trade in Southwark is briefly in an upstairs room at The Royal Oak in Tabard Street.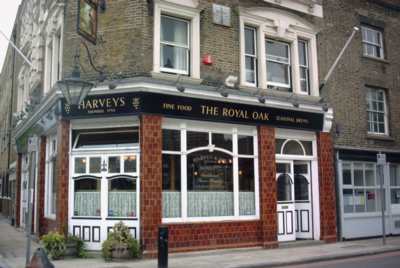 It is based largely on CAMRA's national inventory recording pub interiors of outstanding historic interest. Highlighted are Holborn's Princess Louise and the Cittie of York as well as other gems around the country.
There are examples of glazed walls and interior tiling including pictures of jester in Kirkcaldy and George Stephenson in Edinburgh. Both are by Doulton so were probably produced on the Albert Embankment.
A pub sign, the Two Brewers, offers a reminder of Southwark's two great breweries, Courage and Barclays, which merged in 1959 and closed in 1982. This is in a special Southwark section, prepared by the Southwark Local Studies Library, which gives a rare and clear desription of the hop trade in Borough.
There is a picture of the Wigan, Richardson & Co building which still stands (in scaffolding) at 15 Southwark Street. This firm was a hop merchants. Le May, whose narrow building is near The George, was a hop factors. Sadly the splendid mid-Victorian Hop Exchange was never used for hops.
The British Pub and The Hop Trade in Southwark is open daily at the Royal Oak 12 noon to 9pm until Friday 18 February; admission free.
• Geoff Brandwood, author of Licensed to Sell, will be giving talk about Victorian Pubs at The Royal Oak on Saturday 19 February at 7.30pm.
• Licensed to Sell: The History and Heritage of the Public House†by Geoff Brandwood (English Heritage £14.99).
†