The Church Commissioners have announced the sale of part of their estate in Waterloo. The move follows a review of the Commissioners' residential property portfolio.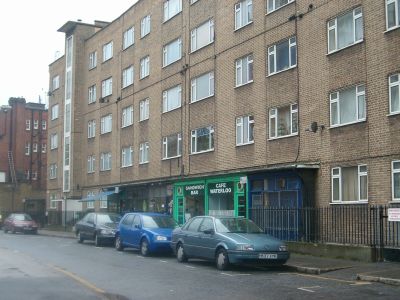 Benson House in Hatfields
The Waterloo properties are flats north of
The Cut
and include Cornwall Flats alongside the bus depot in
Cornwall Road
,
Ospringe House
and Croydon House in
Wootton Street
, Charing House in
Windmill Walk
and Tait House in
Greet Street
. Also included are the Benson House flats and shops in
Hatfields
.
Paul Clark, Chief Surveyor of the Church Commissioners, said: "We believe our proposed way forward will both contribute towards our mission to support the Church's ministry and be a good outcome for our tenants. Unlike the Commissioners, the new owners are focused housing providers and so are likely to be in a position to invest in the properties for the long term.
"The Church Commissioners have a wider investment portfolio and our duty is to deliver the best possible returns on our investments to help fund the work of the Church across the country. This duty sometimes involves making changes to our portfolio such as this.
"We are currently speaking to a shortlist of three specialist housing providers, all of whom are Registered Social Landlords. Nothing has been finalised, and we do not yet know who the new owners will be."
In 2001 tenants, who held held a candle-lit vigil outside Lambeth Palace, expressed concern about families' adult children being unable to live in the area if market rents are introduced when properties fall vacant.
Properties in Stoke Newington and Maida Vale are also to be sold. The Church Commisioners' flats and houses south of The Cut, in Mitre Road and Ufford Street, are unaffected by the plans.