David Bellamy came to Archbishop's Park this week to plant a rose bush to mark the launch of the Octavia Foundation, a new organisation devoted to preserving the memory of Octavia Hill.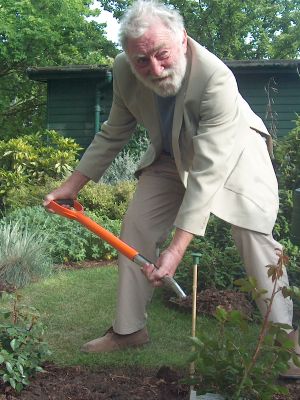 The roses are a new variety named after Octavia Hill and have been donated to Lambeth's Parks by the
Octavia Hill Birthplace Museum
in Wisbech, Cambridgeshire.
Octavia Hill (1838-1912) was a leading Victorian social reformer whose diverse legacy included laying the foundations of social housing in this country and the world, co-founding the National Trust, developing the Army Cadet movement, establishing occupational therapy as a profession and support for the movement to create parks and green spaces in towns and cities. The Octavia Foundation will build on the ideas of Octavia Hill to support disadvantaged communities in London.


Left to right: Margaret Wolfit, president of the Octavia Hill Society, Sarah O'Connell, chair of the Friends of Archbishop's Park, Shaun Kiddell, Lambeth's head of parks, Cllr Clare Whelan and Professor David Bellamy
Professor Bellamy spoke of his long-standing family connections with Lambeth – his grandparents were married at the church of St Mary at Lambeth, and recalled his participation in the campaign in the early 1980s to save the church from demolition which let to its conversion into the
Museum of Garden History
. He added that his lifelong interest in Octavia Hill began when he was evacuated to Wisbech during the war.
After the planting ceremony in the park, guests walked to Lambeth Palace for the launch of the foundation, which was attended by the Duke of Gloucester.
Archbishops Park is a 10 acre park laid out in 1900 following a long campaign by the Metropolitan Parks and Gardens Association. The owners of the park, the Church Commissioners, have recently granted a new 40 year lease to Lambeth Council to ensure that a new generation can benefit from access to green space and play and sports facilities.
Cllr Clare Whelan, Lambeth's executive member for environment, says: "The kind gift of Octavia Hill roses provides a good opportunity for us in Lambeth to look back and appreciate the legacy left to us by Octavia Hill and her contemporaries. And also to look forward to ensure we pass on a similar inheritance. Lambeth Council is committed to working with the community to improve Lambeth's many green spaces."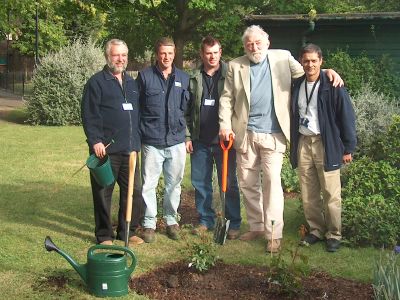 David Bellamy with the Cleanaway contractors who maintain Archbishop's Park
Sarah O'Connell, chair of the
Friends of
Archbishop's Park
, which has campaigned vigourously to protect and enhance SE1's largest green space, added: "We are very grateful for the commitment and generosity of both the Church Commissioners and Lambeth Council, and hope that by working together we can create an oasis of quiet and green in a rapidly changing part of London."
• Octavia Hill's Red Cross Garden in Southwark is currently being restored.