Mayor of London Ken Livingstone has described the Royal Festival Hall refurbishment as "a wonderful new addition to London".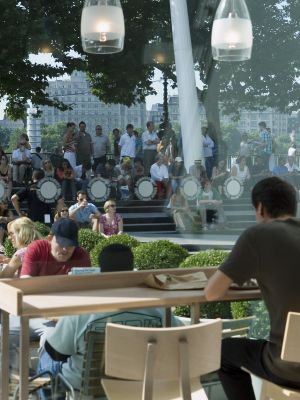 The Mayor's verdict was given in a message read out during an outdoor party to celebrate the first phase of the massive makeover.
The Festival Riverside, occupying the former service road, now has shops and restaurants including EAT, Giraffe, Strada , Foyle's bookshop and MDC Music & Movies. This week Wagamama , the pan-Asian noodlebar, opened its first SE1 branch in the new South Bank parade.
Guests, who were able to sample food from the new restaurants, heard Chief Executive Michael Lynch announce that the new outlets were reporting good business during the first few days. It is understood that the South Bank Centre has had a sudden rush of requests for details of the arts related shop units planned at the side of the building.
The party entertainment, shown live on BBC1, was in the new riverside public space where artists and dancers will be able to perform whilst the audience sits on specially designed walls and steps.
South Bank Centre Chairman Lord Hollick promised a very different interior when the Festival Hall reopens in summer 2007 as a new public space with a sixth floor terrace.