Conservative leader David Cameron has praised the work of social enterprises during a visit to Coin Street Community Builders on the South Bank.

David Cameron arriving at CSCB's Upper Ground headquarters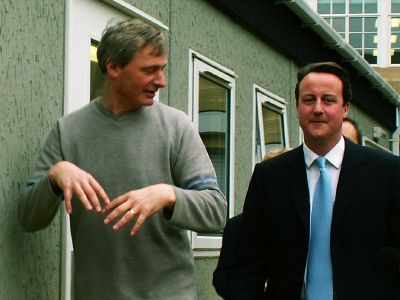 Director Guy Hanscombe welcomes Mr Cameron to the Family & Children's Centre

The Tory leader in conversation with CSCB chief executive Iain Tuckett en route to Oxo Tower Wharf
Speaking at the event, timed to coincide with Tony Blair's launch of his "respect agenda", Mr Cameron said: "In every part of Britain, inspiring social entrepreneurs are pioneering solutions to the complex problems of family breakdown, chaotic home environments, drugs, and low aspiration. We trust them to restore respect, and we'll remove the barriers that stand in the way of their growth and success, for example through Social Enterprise Zones in our most deprived communities. Like enterprise zones that set business free to create jobs, wealth and opportunity in the 1980s, Social Enterprise Zones would remove the many regulations and bureaucratic obstacles which hold social entrepreneurs back today. We want to create a level playing field for social enterprises so they can win more contracts to deliver more community and public services, creating jobs, hope and opportunity. "