Plans to revamp The Cut with a central line of trees and pedestrian-friendly piazzas at key crossing points have gone on display.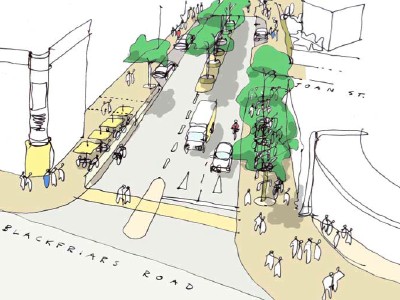 Impression of the scheme seen from Blackfriars Road
Local residents heard a presentation from the scheme's architects at the Waterloo Action Centre on Wednesday night. David Fisher of the Waterloo Community Development Group presented the findings of a consultation exercise carried out during April.
Colin Ferns of Cracknell Ferns Associates explained that the proposals weren't intended to change traffic flows but to create a "better pedestrian experience".
The proposals include a line of trees between the two carriageways on two sections of the street – between Cornwall Road and Windmill Walk and Hatfields and Joan Street.
Key crossing points – at the junctions with Windmill Walk, Short Street and Hatfields – would be marked by raised piazzas creating a more pedestrian-friendly environment.

The Short Street junction and the Young Vic
Transport for London has asked Lambeth and Southwark Councils to present a funding bid for improvements to The Cut under the Streets for People scheme. A funding decision will be taken in November, and if approved work could begin in February 2007.
The work would include a complete replacement of all pavements and road surfaces, as well as new street lights of a consistent design across the Lambeth-Southwark boundary.
Other suggestions include underground chambers for trade refuse bins with a hydraulic lift to raise the bin to ground level for emptying.

View from Emma Cons Gardens towards the National Theatre Studios
The meeting heard complaints from residents of The Cut about the recently installed Southwark 'gateway' light column outside the Young Vic. Not only is the 'Welcome to Borough and Bankside' message incongruous in the heart of Waterloo, but the sign has been placed several metres into Lambeth Council territory.
An exhibition of the proposals can be seen at the Living Space in Waterloo Road until Friday 26 May. Between Tuesday 30 May and Friday 2 June the displays will be in the entrance foyer of Southwark College in The Cut.
Detailed plans will be presented at a public meeting at Waterloo Action Centre on Monday 10 July at 7pm.