A week-long public vote is under way to select the winning design of a transportable meeting and performance space which will come to the South Bank in 2008.

Design 1
Four striking designs selected from 56 entries by anonymous teams of architects and designers from the UK and Europe will be put to a public vote this week at
www.liftfest.org.uk
.
Proposals include a tall tent-like structure allowing for interchangeable additional structures within it, a "nest-like" bamboo structure supporting a "shell-like" enclosure, a system of triangular panels allowing for different forms, including a cocoon-like enclosure and "a new ground and a new sky", with a raised platform beneath an inflatable "cloud".
Conceived as a structure like no other, the Lift New Parliament will be a meeting place that hosts performances, ceremonies, forums, talks, workshops, virtual conferences, installations, and exhibitions by day. By night, it is a beacon, an after dark installation, transmitting sound and image, radio broadcasts, films and documentations of the day's activities, communicating the messages of its activities through theatre and the web.


Design 2
The transportable structure will open the 2008 Lift Festival in Newham, east London, moving onto the South Bank Centre and then travelling nationally and internationally, hosting a programme of performances, debates, ceremonies and installations.
The public's contribution to the selection of the winning design team will start a two year process of participation in making the Lift New Parliament a reality – developing the building and deciding what happens inside this new cultural space. Central to the ethos of the Lift New Parliament is the involvement of a wide and growing range of people in its creation, themes, management, organisation, programmes and protocols.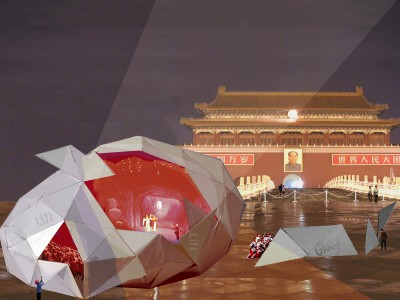 Design 3
Lift and The
Architecture Foundation
launched the international design competition for the Lift New Parliament in May 2006.
The four shortlisted entries were selected anonymously by a jury including Angharad Wynne-Jones, Director of Lift; Rowan Moore, Director of The Architecture Foundation; Steve Tompkins, Architect and Partner of Haworth/Tompkins; Sophia de Sousa, The Glass-House; Subathra Subramaniam, Choreographer; Rachel Bagshaw, Theatre Director; Clare Cooper, Lift Board Member.
The public's online vote will count as one of eight votes cast by the jury. Participants from east London boroughs will have a chance to talk to each of the shortlisted teams about their design concept and this feedback will also influence the jury's final decision.


Design 4
The winning design will be announced on 7 July.
A series of events between September and November 2006 will explore, amongst other things, how the structure looks, feels and operates. The winning design team will be engaged fully in this process.