A major exhibition devoted to Bankside-born Thomas Girtin and featuring SE1 in 1802 opens this week at Tate Britain.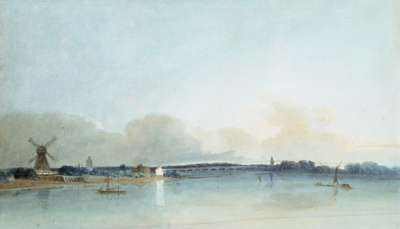 The White House at Chelsea (1800) by Thomas Girtin (Tate)
It's also important for Southwark as the exhibition highlights his dramatic final work on a Bankside panorama.
Girtin was born in 1775 in Great Bandy Leg Walk which a glance at an A-Z map will soon confirm is today's Great Guildford Street. His father was a brushmaker and the family was descended from French immigrants who had arrived in Borough during Henry VIII's reign.
Baby Tom Girtin was baptised in Southwark Cathedral. Three years later his father died and mother and children moved across the river to a house behind St Paul's Cathedral.
But by the age of 17 he was back in Southwark working for linen draper and artist James Moore. He paid art student Girtin six shillings a day to copy and improve his own amateur sketches of old churches. Eventually Girtin collaborated with JMW Turner at first sharing work on the same pictures.
Girtin excelled as the large exhibition shows but his life was short due to asthma. "If Tom Girtin had lived I should have starved" Turner is alleged to have said.
Young Girtin's last and major work was a panorama of the view from the top of the British Plate Glass Warehouse. We know the site today as Doggett's Coat & Badge pub on the end of Blackfriars Bridge.
Girtin worked on the huge canvas at a floor cloth manufacturer's building in Newington Causeway. After being displayed in Charing Cross it was taken to Paris and lost in a fire. For today's exhibition the Tate has commissioned a large colour photographic panorama of the view today to compare with eight salvaged preparatory sketches.
We see the South Bank and Bankside in the year 1802. Beyond the Albion Mills building in Blackfriars Road is Southwark Cathedral tower and across rural land to the south-east is St George'sin Borough High Street. Looking south down Blackfriars Road we see Christ Church with a new tower as proud as any across the river in the City. The Surrey Chapel, or the Ring as it became, can be seen at the end of a Georgian terrace and on the corner of Union Street. Across the river there are even more spires than today.
This is a fascinating exhibition for those interested in watercolours and SE1 history. But remember it's at Tate Britain and not at Tate Modern. Girtin lived too early to qualify for the local gallery.
• Thomas Girtin: The Art of Watercolour is at Tate Britain until 29 September.
• Open daily 10am-5.40pm; admission £6.50 (conc £5; family £19.50).
• Buy the catalogue at Amazon.co.uk