Borough Market has been voted the people's favourite 'Totally London' experience at this year's London Tourism Awards. Bankside Street Action Team was also highly commended in the Local Tourism Initiative category.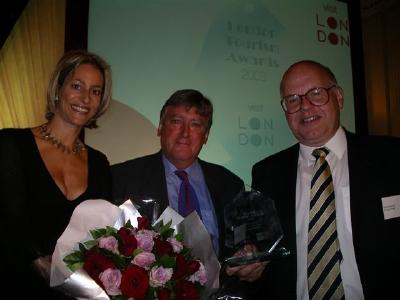 George Nicholson and Simon Tattersfield from Borough Market with Emily Maitlis and their BBC London Totally London award
The Awards, organised by Visit London (the former London Tourist Board), were presented at Claridges by
BBC London
news presenter Emily Maitlis.
The public was invited to nominate their favourite London experience and Borough Market was the runaway winner with 43.2% of the total votes and more than twice the amount of the nearest contender.
Simon Tattersfield, Director of the Market said: "We are delighted to receive this award, particularly as it represents the people's choice. The combination of high quality British and international food and the atmospheric setting of this ancient London market is proving extremely popular with visitors. The Market is constantly expanding and evolving through our refurbishment works and we look forward to welcoming more people to enjoy the unique experience of shopping here."
Market Trustees chair George Nicholson who collected the award said: "Since the launch of the retail market in 1999, Borough Market has become celebrated for providing high quality food, much of which is sold straight from the producers. We are grateful to the public who voted for us. Our customers are as essential to the success of the Market as the traders – they help to create the great atmosphere that is the Market."
Emily Maitlis, commenting on the award for the Bankside Street Action Team, said: "The judges were very impressed by the tangible improvements that have been made in Bankside, for the benefit of both visitors and residents."

Members of Bankside Street Action Team
Bankside Street Action Team, launched a year ago, pools the knowledge and expertise of several local organisations in order to tackle environmental
problems and reduce crime quickly and effectively. Representatives include
Southwark Council
's Environment and Leisure department,
Better Bankside
, Council officers, Bankside Residents Forum and local police.
• The London Aquarium at County Hall has come first in a Worst Visitor Attraction in London poll on LBC 97.3. News reporter Amanda Walker, advised by a guide book editor, interviewed disappointed visitors whose main complaint was the high admission charge. Second and third in the survey were Petticoat Lane Market and Harrods.