Borough Market's Globe Tavern can currently be seen on advertising posters around London as part of a government anti-benefit fraud campaign.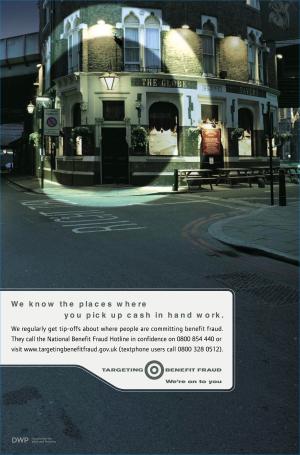 The building, familiar to movie fans as Bridget Jones' flat in the film of Bridget Jones' Diary, features on one of the posters in the
Targeting Benefit Fraud: we're on to you
ad campaign.
Benefit fraud costs taxpayers £2 billion a year, and the advertising campaign launched in June will run until summer next year, with the first phase costing £4.8 million.
Work and Pensions Secretary Andrew Smith said: "This campaign shows we are deadly serious about tackling benefit fraud, building on the success we've had so far in cutting fraud and error in the main benefits by 24 per cent.
"There can be no hiding place for the cheats. We are now waging a more professional war on fraud and have more powers than ever to take action."
Media Guardian's Media Monkey diary this week published a mischievous piece noting the presence of a poster featuring the Globe – a favourite haunt of Financial Times journalists – opposite the paper's Southwark Bridge HQ, and asking "Surely Pearson doesn't pay that badly?".