The London Bridge branch of Starbucks is one of the venues for a revival in the tradition of debating in London coffee houses to be staged on Monday 22 March. Local residents and workers are invited to discuss ways of reducing wastage globally and locally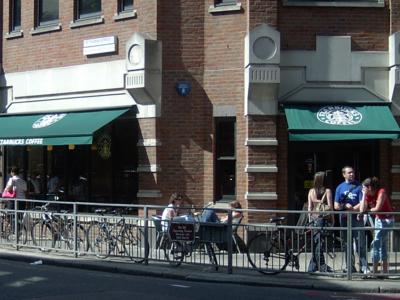 98% of new products end up as waste. On Monday 22 March at 6pm SE1 residents and workers and maybe a few local celebrities will be holding a caffeine stimulated, informal discussion to consider what we can all do to reduce this.
Individual and corporate responsibility will be considered, Starbucks are keen to address the issue and are inviting representatives of near neighbours such as McDonalds and London Bridge Station to join them to consider this challenge along with representatives of local environmental groups, Fellows of the RSA and members of the coffee drinking public.
This debate will be just one of hundreds happening across the UK on Monday to mark the beginning of the RSA Coffeehouse Challenge. The Challenge marks the 250th anniversary of the RSA (Royal Society for the encouragement of Arts, Manufacture and Commerce) which was founded in a Covent Garden coffee house on 22 March 1754 by William Shipley. There will be Coffeehouse Challenge debates in the House of Commons and House of Lords (hosted by Barry Sheerman MP and Baroness Thornton) and HRH The Duke of Edinburgh, the RSA's President, will chair one at the RSA House.
The Challenge will culminate in an International Conference organised by the RSA at the Royal Albert Hall on 11 October 2004 to showcase the best solutions from these debates.
• Starbucks , 21-27 St Thomas Street