Southwark Cathedral was packed for Mothering Sunday Choral Eucharist with some people having to sit on extra chairs with a restricted view of the altar.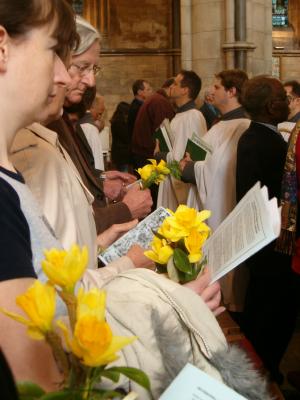 Canon Jeffrey John, preaching on the Holy Family, said that the Bible indicated that Jesus' family life included difficult times just as our own family life does.
Three children were baptised during the service and afterwards bunches of daffodils were distributed for people to give to their mothers.
Those not meeting their mother during the day, or whose mother had died, were invited to place their flowers with others at the foot of the statue of the Virgin Mary.
• During the service it was announced that Easter cards giving details of the Cathedral's Holy Week and Easter Day services will be delivered to homes and businesses in the parish.