The final ITV weather forecasts to be recorded at the London Television Centre on the South Bank were broadcast on Sunday.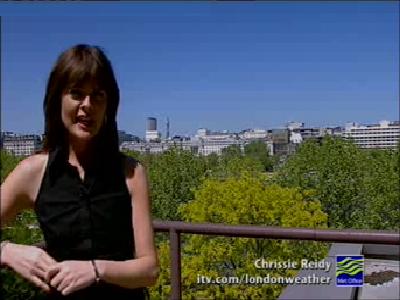 Chrissie Reidy presenting the lunchtime London regional weather from a balcony above the South Bank riverside walkway on Wednesday 19 May
Production of the ITV National Weather – and forecasts for ITV's London region – is being transferred to ITN.
Presenters Martyn Davies, Sian Lloyd, Chrissie Reidy and Robin Lermitte will in future be based at ITN's Gray's Inn Road headquarters.
The move follows the transfer of ITV's London regional news service from the South Bank to ITN at the beginning of March. The weather service had share studio space and technical facilities with London Today and London Tonight.
ITN takes over the weather service from Wednesday; whilst the move is under way, Monday and Tuesday's forecasts will be recorded at ITV Yorkshire in Leeds.
The London Television Centre in Upper Ground – previously best known as the base of London Weekend Television – houses the corporate headquarters of the newly merged ITV plc.