For one week only, Bermondsey Kitchen is offering an all-Spanish regional menu with matching wines, making full use of its renowned charcoal grill.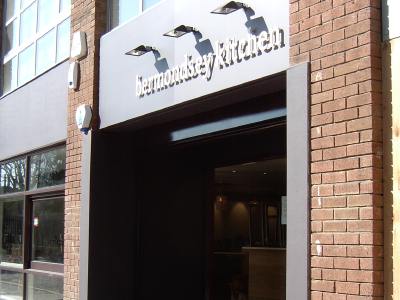 Bermondsey Kitchen" width="400" height="300">
While fantastic French and Italian restaurants abound in London, why are there so few good Spanish establishments?  When ordering patatas bravas, how often have chips with ketchup been brought to your table?  For Dela Foster, owner-manager of
Bermondsey Kitchen
, Iberian cooking is a huge source of culinary ideas and inspiration just waiting to be tapped.
Just a few of the regional Spanish dishes on offer during the week – which runs until 30 May – will include:
• Salchichon, chorizo and lomo from the famed Pata Negra Iberico acorn-fed pig
• Roast Suckling Pig from Segovia
• Charcoal-grilled mixed seafood with allioli
• Charcoal-grilled goat with garlic and peppers
• Arros negre – rice cooked with squid in its ink from Catalonia
• Zarzuela – the classic fish and seafood stew
• Spanish cheeses from specialist importer Brindisa – Tetilla from Galicia, Puzol from Valencia, Manchego from Leon
The week is also the perfect opportunity to drink some regional Spanish wines that ideally complement the food. The Bermondsey Street restaurant is hosting a Wine Tasting on Tuesday 25 May. Different regional specialities will be featured at the wine tasting, including spritzy whites from the Basque country, intensely mineral reds from the slate hills of Priorat and a robust monastrell from the hot plains of Alicante.  The tasting will include 6 wines and a Cava – tapas will also be provided. The event will be tutored by John Humphries, an expert in Spanish wines with 20 years' experience under his belt.  He has created the wine list for many restaurants including Eyre Brothers, Cigala and The Red Fort. The cost is £19 per person, with limited availability.
Bermondsey Kitchen was established in 2002 by owner-manager Dela Foster.  Ruth Quinlan, chef from acclaimed gastropub The Eagle in Farringdon kicked off activity in the kitchen.  Fire and charcoal have played an important part in the cooking at Bermondsey Kitchen from the start. Dela was strongly attracted to the simplicity of cooking without gas or electricity and a charcoal grill was the ideal solution. Dela's passion for cooking dictated that the kitchen would hold a central position in the restaurant, leading to the name, Bermondsey Kitchen.  Since then, the restaurant has thrived in the vibrant community of Bermondsey Street, setting itself apart from the competition with its Iberian-influenced daily-changing menu.  The kitchen is currently run by Adam Hicks, previously head chef of The Honest Cabbage restaurant (predecessor of the Garrison).
 
The Restaurants Against Hunger campaign has had tremendous support from Bermondsey Kitchen so far. Foster's objective is to raise £1,000 for the charity through the Hot Chocolate Pudding campaign in her restaurant. This Spanish week marks Bermondsey Kitchen's aim in stepping up its efforts in helping Action Against Hunger to provide assistance to the malnourished and hungry around the world.  There will be an optional £1.50 cover charge during the Spanish week.


• Bermondsey Kitchen, 194 Bermondsey Street
• 020 7407 5719