The Bankside Traders' Association members have been looking at Borough Market's Floral Hall which opens later this summer.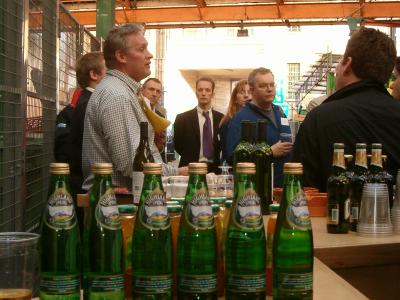 BTA Chairman Mike Hill of Utobeer welcomes members

Floral hall project architect Ken Greig and former BTA Chairman Chris Barlow
The scheme's architect Ken Greig of Greig & Stephenson took members under the Floral Hall portico to talk about the history of the structure, which once stood in Covent Garden, and the Market's ambitious refurbishment.

New paving below Floral Hall entrance
BTA members were impressed by the additional building and the views from the upstairs interior which will be restaurant.

View of St Paul's from Floral Hall
Earlier guests were welcomed by chairman Mike Hill of
Utobeer
at a reception where former chairman Chris Barlow spoke about the membership growth and opportunities. Members include Greig & Stephenson in
Park Street
.

View from above Floral Hall portico