England rugby captain Lawrence Dallaglio has named a new RNLI Thames lifeboat in memory of those who lost their lives in the collision between the Marchioness and the Bowbelle in August 1989.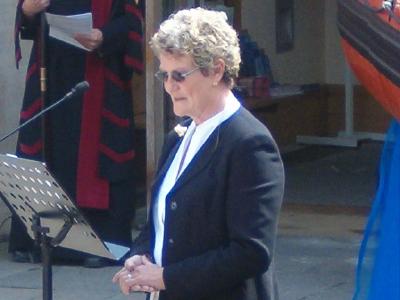 Eileen Dallaglio reads the lesson during the service
The ceremony took place in
Southwark Cathedral
's Millennium Courtyard and was attended by survivors and members of the victims' families. Also present were the Mayor of London Ken Livingstone and
Simon Hughes
MP.

Lawrence Dallaglio names lifeboat
Lawrence Dallaglio, whose sister Francesca died in the accident, named the lifeboat The Legacy.

The Bishop of Southwark addresses the guests
Guests were welcomed by the Dean of Southwark who led the service of dedication. The lesson was read by Mrs Eileen Dallaglio, mother of Francesca and a representative of the Marchioness Contact Group.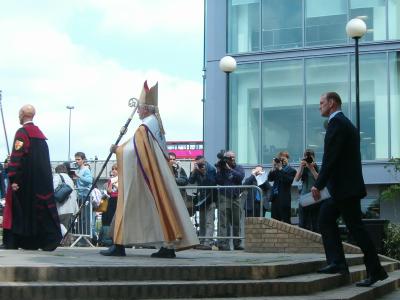 Procession to the riverside
Afterwards the Bishop of Southwark led guests to the riverside where the RNLI lifeboat from Tower Pier was positioned on the river.

51 roses are laid on the river from a lifeboat
The Bishop said a prayer and, in the silence which followed, the crew laid 51 roses on the Thames in memory of the 51 lives lost. At once the flowers floated on the tide upstream and across the reach above Cannon Street Railway Bridge where the tragedy occurred.

A rose floats upstream
The new lifeboat, made possible by a bequest, will be a shared search and rescue asset used by three of the four the
RNLI
lifeboat stations on the Thames – Tower Pier, Chiswick and Teddington.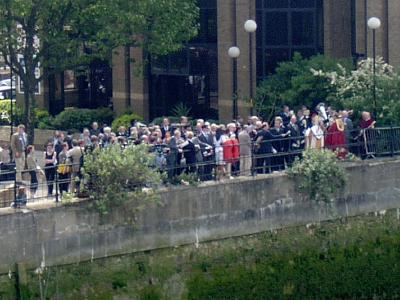 The ceremony viewed from London Bridge
Last year the Thames lifeboats were called out on average twice a day and were involved in rescuing 271 people.
• A memorial to the Marchioness victims is in Southwark Cathedral.