Commemoration services marking the 60th anniversary of D-Day have been held in the Pool of London and in Southwark Cathedral whilst the Queen and Prime Minister were attending the ceremonies in Normandy.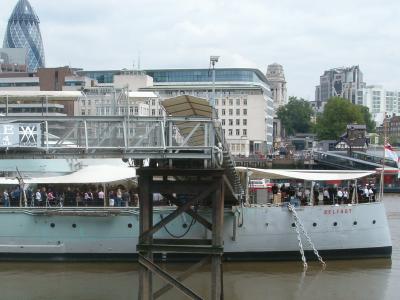 HMS Belfast">
On Sunday morning D-Day veterans were on board
HMS Belfast
for a commemoration service on the quarterdeck as flags flew at half-mast for those who died sixty years ago. The ship supported the Canadian dawn assaults on the Normandy beaches and was one of the first to fire on German positions.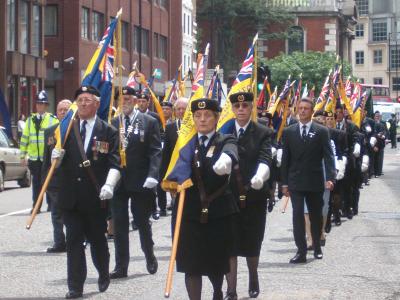 A
Royal British Legion
parade was held in
Harper Road
before ex-service men and women, led by a military band, carried 29 British Legion standards into The Borough for a remembrance service in
Southwark Cathedral
.
Canon Bruce Saunders, addressing the huge congregation, said D-Day was a story of ordinary people doing extraordinary things and that in 1944 it was mainly teenagers who faced the horrors.
"Today is about remembering" said Canon Saunders. "Remembering whether we were there or not. Remembering is a way of saying we want things to change. Remembering can be transforming."
He also warned about the danger of continued arms sales adding that "war hurts people and leaves them hurt".
The service included prayers being said at the main commemoration in Normandy. Hymns sung at Southwark included All My Hope on God is Founded and Abide with Me.
During the Act of Remembrance the Last Post was sounded and the standards dipped.
Similar services were taking place at about the same time in Belgium and Holland.