Celebrating Sanctuary - an afternoon of music, craft, food and drink on the South Bank - was the first event of both Refugee Week and the 2004 Coin Street Festival.

Music at Oxo Tower Wharf
Children and young people, including refugees and asylum seekers from across London, created three large colourful canvasses at the annual Celebrating Sanctuary festival on the South Bank. The event launched Refugee Week 2004, and was expected to attract more than 15,000 people.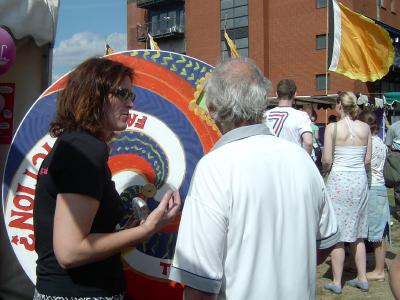 Spinning the myth-busting wheel
Artists from Inspirall, with Save the Children's London Development Team, encouraged children attending the festival to explore three specific themes relating to refugees through art on each panel: 'Who am I' – which looks at issues of identity and cultural ethnicity; 'Loss' and 'My hopes for the future'.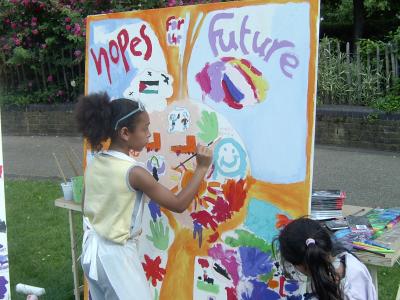 Painting a canvas in the sunken garden at Bernie Spain Gardens
A large Myth-Busting Wheel, hand painted and decorated by the London Brighter Futures group, gave festival-goers an opportunity to spin it for themselves and uncover the facts behind many of the myths surrounding refugees and asylum seekers.
The next
Coin Street
Festival event is International Co-operative Day on Sunday 3 July.