'Three Hundred Years of Growing and Listening' was the theme of the service of celebration for the tercentenary of Cathedral School held in Southwark Cathedral.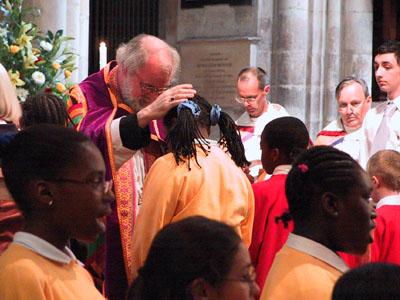 Archbishop of Canterbury Rowan Williams, wearing a bright cope of Kente cloth given to him in Ghana, was welcomed by the entire congregation singing 'Happy Birthday'.
He spoke about how the community and life of the school gives both children and adults a language to learn to understand each other, commenting that the formally posed 17th-century children illustrating the service booklet looked lonely and fearful.

The packed congregation of parents, teachers, governors and local supporters of the school saw acted-out the stories of the early benefactors – Dorothea Appleby, Thomas Colet, Elizabeth Newcomen – and heard how the Christian vision and values of justice, honesty, generosity, kindness and forgiveness were reflected not only in the Government Inspection Report of 1904 but also in the OFSTED report of 1999.

Bishop of Southwark Tom Butler presenting a scroll to the Chair of Governors
The presentation of a commemorative scroll underlined the achievement of the continuous service of the school to the local community, one of the few 56 schools founded in 1704 to survive to the present.
Headteacher Sylvia Morris, speaking before the service, said: "The children, staff and governors are excited that the Archbishop is coming to meet with them on this historic occasion. It is a joy and a privilege to serve this successful school in the heart of the inner city where children continue to exceed our expectations. We feel proud and privileged to welcome the Archbishop to share in our service of celebration and thanksgiving."
• The Cathedral School stands in Redcross Way on the site of a palace and has 240 pupils aged from 3-11.