Commuters crossing the river on Monday morning did a double-take as a tennis court floated downriver from the London Eye to Tower Bridge with John McEnroe and Monica Seles playing a match.
The floating tennis court was a publicity stunt by American Express to promote their Tennis at Tower Bridge event in
Potters Fields Park
this week.
The court will be lifted from the barge onto a scaffolding platform constructed above the grass in the riverside park.

Monica Seles looks up at the small crowd gathered on the Millennium Bridge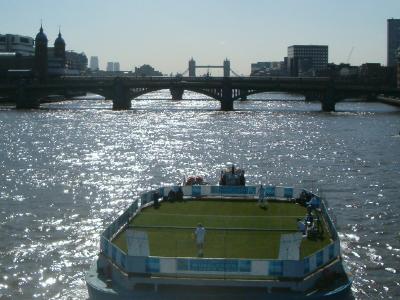 Speaking after today's game Seles said there had been no clear winner: "It was such a thrill to play with John on a barge on the Thames. I have never done anything even close to this before. I am thinking this was a dream."