Supporters of the Co-operative movement gathered on the South Bank on Saturday to celebrate International Co-operative Day as part of the Coin Street Festival.
Co-operatives operate in many forms throughout the world and the first Saturday of July is an international celebration of co-operation.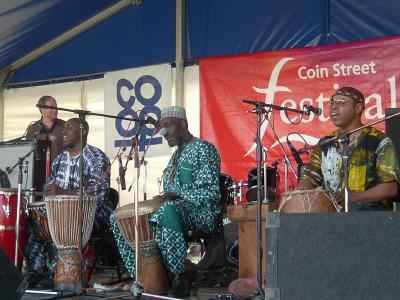 Saturday's event in
Bernie Spain Gardens
was staged by the South East Region of the Co-operative Group, the UK's largest consumer co-operative, in conjunction with
Coin Street
Community Builders, a highly successful social enterprise.
As well as the usual food and music of a
Coin Street
Festival event, Co-op fair trade products such as wine, chocolate, fruit and orange juice were available to be sampled and on sale at special prices. Other Co-op businesses such as Travelcare and Funeralcare were also represented.
Children's activities in the sunken garden were provided by the Woodcraft Folk.
• The next Coin Street Festival event is the annual community celebration on Sunday 25 July.