Two men who burgled an elderly woman in Marshalsea Road and jumped from a fourth floor window were sentenced to a total of 25 years in prison at Inner London Crown Court on Friday.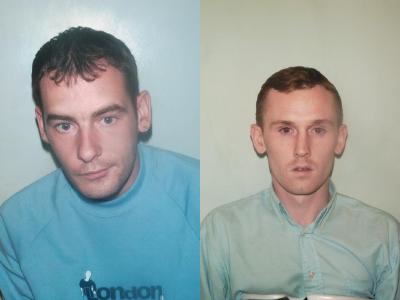 Sentenced: Stephen O'Reilly (left) and Stephen Collins
Police were called to a block of flats in
Marshalsea Road
on the afternoon of Friday 31 October 2003. Two men in their late 20s had entered the flat of a woman in her late 70s. After pushing her over, the men were in the process of ransacking the flat when neighbours, hearing the commotion, disturbed them by banging on the door.
The two men jumped some 30 to 40 feet from the window of the flat, which is on the fourth floor of the block, landing on the pavement in Marshalsea Road. Although injured, both managed to get into their car and start to drive away. The neighbours had by this time made their way to the street and pursued the suspects' vehicle on foot.
The driver lost control of the vehicle in a nearby street and it was in collision with a lamp post. Meanwhile, the driver of a JCB, seeing what was happening, used his vehicle
to block the suspects in.
Police and ambulance arrived and the suspects, who were trapped in the car, were extricated and taken to a local hospital. One was taken by road ambulance. The other's injuries proved to be so serious that an air ambulance was called to transport him.
The elderly victim suffered bruising and was very shocked.
Stephen Collins, 24, unemployed, of Caledonian Road, N1, was sentenced to ten years for two robberies and three years for GBH during one of the robberies. Both counts to run consecutively. He pleaded guilty to all three counts.
Stephen O'Reilly, 27, of no fixed address, was sentenced to nine years eight months for two robberies and three years, consecutively for GBH. He pleaded guilty to all three counts.
Collins was also sentenced to three years for violent burglary in Haringay in August 2003, to run concurrently.
The day before the Marshalsea Road incident, Peckham officers were called to a vicious robbery in Honor Oak Rise, SE23, which resulted in the female victim attempting to escape by jumping from a second storey window.
The 30-year-old woman answered the door of her flat to a man claiming to be from the gas board. After letting him in, she realised he was closely followed by a second man. She asked both to leave the premises, but they refused and proceeded to search the flat for money. A number of items were stolen.
During the search, the victim was severely beaten about the head. At some stage the victim jumped from the kitchen window. She landed on concrete and suffered severe injuries. She was taken to a south London hospital where her condition was believed to be life threatening. She is now believed to be recovering from her physical injuries.
DI Nick Mervin of Southwark CID said: "Both Stephen Collins and Stephen O'Reilly attacked lone women in their homes. They used excessive violence and caused immense distress to their victims.
"They scared one victim to such an extent that she felt her only option was to jump out of the window to escape their violence.
"Whilst attacking a vulnerable elderly woman in her flat, they jumped out of the window themselves to escape attempts to detain them.
"As a result of the two incidents, Southwark Police launched two major enquiries, involving a significant amount of police resources at Peckham and Walworth police stations.
"The sentences that have been imposed today on O'Reilly and Collins will make the people of Southwark that little bit safer and are a just punishment for their actions."
The elderly woman victim's son said: "I have no sympathy for anyone who does this to vulnerable victims whether it's my mum or not and they deserve the full weight of the law."
The judge praised the swift and public-spirited actions of the JCB driver and the victim's neighbour who helped apprehend the two men in Marshalsea Road.