Bankside residents have lost their final bid to stop the construction of a 20-storey tower in the shadow of Tate Modern.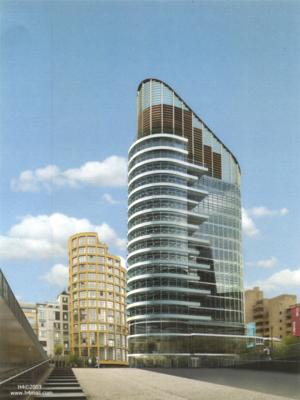 Computer generated image of the planned tower
The Court of Appeal rejected their case and upheld the planning permission granted by the Deputy Prime Minister following a planning inquiry.
The news will be a huge boost to developers London Town, whose future was dependent on the outcome of the court case.
The case was brought by members of Bankside Residents for Appropriate Development (Broad), who had argued that the whole planning procedure was so flawed that objectors did not get a fair hearing, and that planning permission for the block should now be quashed.
They had also argued that their right to the enjoyment of their property under the European Convention on Human Rights would be breached if the tower is built.

The scheme involves a tower block with 28 apartments, plus shops and restaurants on the ground floor, at 44
Hopton Street
.
It was argued that it would significantly affect residents at Bankside Lofts, opposite Tate Modern and residents at Falcon Point, which contains 110 low-rise flats north of the proposed tower block site.
The site, once a paper warehouse, was sold to developers London Town for £7.6 million in December 2000, after the Tate had tried and failed to buy it.
Developers first hoped to erect a 32-storey block some 127 metres high, but withdrew that plan after local opposition.
The current scheme was submitted in June 2002. It is 63 metres high and nine of the 28 apartments would be "affordable".
Planning permission was refused by Southwark Council in October 2002. But the developers appealed and an inspector held a public inquiry and overturned the council's decision.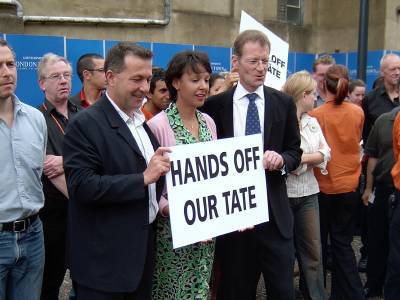 Sir Nicholas Serota demonstrates with local residents in July 2003
Tate director Sir Nicholas Serota has been a prominent supporter of the campaign to prevent the building of the tower. At a campaign event last year he said "In any other country the area would be kept as a lung within the city. The site should be part cultural and part community use".
Dean of Southwark Colin Slee, who also lives alongside Tate  Modern, said: "This scheme will benefit a few and deface the environment for millions."
Writing last year in the Evening Standard, architecture critic Rowan Moore said that "developers are treating the Tate's boost to the area as a Klondike, to be mined for all it is worth" and adds that the tower will "blight the approach to the museum, and will obstruct the views and daylight of people who live nearby".