The regeneration of Bermondsey Spa moved a step forward this week as Southwark Council granted planning permission for two major schemes.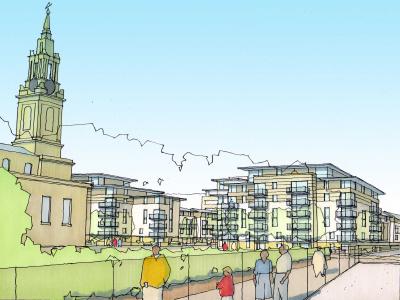 Outline permission was granted for a mixed-use development designed by Levitt Bernstein Associates on behalf of Hyde Housing Association that will comprise new homes, a food store, a new eight-doctor health centre and commercial space; while a smaller residential development and nursery, designed by Idom architects and developed by Blueprint Homes, was given detailed planning consent.
Together the two schemes will provide over 650 new homes, of which nearly 65 per cent will be available either to rent through housing associations or to buy on a shared ownership basis. The schemes will also provide a broad mix of unit sizes ranging from one to five-bedroom homes.
Southwark Council boasts that both developments have been designed to high architectural and environmental standards.
Hyde will also invest in a substantial package of community benefits including a local training and employment initiative, children's play equipment, local tree planting and improvements to the local infrastructure.
The development, which is expected to be completed by 2011, will involve the demolition of three council blocks in the area. Tenants have been consulted and will be rehoused in the new development.
"The regeneration of Bermondsey Spa is really beginning to take shape and promises to deliver real benefits for local people," said Cllr Richard Porter, executive member for regeneration and economic development. "This area used to be an active place with rows of houses and plenty to do. These two schemes, promise to bring life back into the area by providing good, quality homes and much needed local facilities."
In 1999 Southwark Council decided to take a strategic view of the Spa Road area of Bermondsey to explore how it could use its significant land holdings to regenerate what had become a neglected backwater.
A masterplan for the area was adopted by full council in October 2000 and is expected to take 10 years to deliver. The programme has been set up to be self-financing. The sale of council land will provide over £12 million to invest in local area improvements and contribute to the council-wide capital programme.
The Bermondsey Spa regeneration area comprises 21 sites over 50 acres. The council is now in its fourth year of the implementation phase of the programme, with proposals being worked up for 14 sites, including a imminent major relandscaping programme in Spa Park to provide youth and play facilities and a new Sure Start centre.