Members of Bankside Residents for Appropriate Development have petitioned the House of Lords for leave to appeal against a decision of the Court of Appeal in favour of the London Town group relating to the planned 20-storey tower in Hopton Street.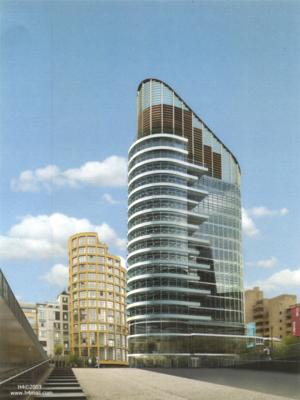 Computer generated image of the planned tower
BROAD's action follows the unanimous decision on 12 July of a panel of three judges in the Court of Appeal dismissing BROAD's objections to planning consent for a 20-storey, mixed use building at
Hopton Street
.
The Court of Appeal decision confirmed a decision by the High Court. This, in turn, followed a decision in favour of the London Town group by the Planning Inspector to whom the London Town group appealed after Southwark Council's planning committee refused consent. The proposal had been recommended by the local authority's planning officers.
BROAD have had to petition the House of Lords for leave to appeal as the Court of Appeal refused their earlier application for leave to appeal to the House of Lords.
According to London Town group, prior to the Court of Appeal hearing leading Counsel advised the company that the Court of Appeal would dismiss BROAD's objections to the planning consent; this has proved to be the case. A statement from the company goes on to say that he also firmly believed that if BROAD lost in the Court of Appeal and asked for permission from the Court of Appeal to appeal to the House of Lords, this would be refused; again, this has proved to be the case. Leading Counsel also opined that if, having been refused permission, BROAD were to petition the House of Lords for permission to appeal, he did not believe that permission would be granted.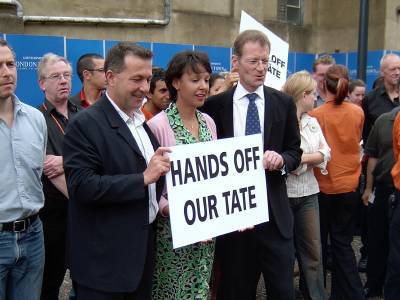 Sir Nicholas Serota demonstrates with local residents in July 2003
Tate director Sir Nicholas Serota has been a prominent supporter of the campaign to prevent the building of the tower. At a campaign event last year he said "In any other country the area would be kept as a lung within the city. The site should be part cultural and part community use".
Dean of Southwark Colin Slee, who also lives alongside Tate  Modern, said: "This scheme will benefit a few and deface the environment for millions."
Writing last year in the Evening Standard, architecture critic Rowan Moore said that "developers are treating the Tate's boost to the area as a Klondike, to be mined for all it is worth" and adds that the tower will "blight the approach to the museum, and will obstruct the views and daylight of people who live nearby".