Borough Market this month hosted its annual summer barbecue for some of its neighbours from the nearby Peabody and Sumner Buildings estates.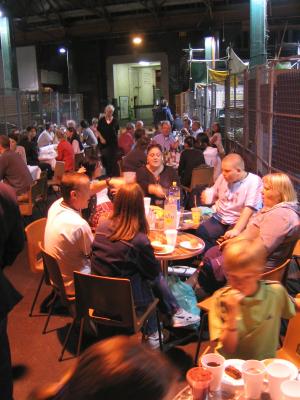 Residents were invited to enjoy a wide selection of hot and cold food donated by the market traders along with soft drinks and smoothies for the kids.
Vinopolis
also donated plenty of quality wine for the adults.
This fourth annual event was a collaboration of the Southwark Tenants Association in collaboration with the traders and trustees of Borough Market. Chief organiser Dorothy Bates said: "As both a trustee and a resident of the Peabody estate I wanted to organise something for local people, to show them that the market is as much theirs as for visitors to the area. I also wanted to introduce them to the wonderful array of fresh food available at Borough Market, much of which is very affordable."
As soon as Friday's market trading had finished, the traders began filling the serving tables with a vast array of cold food including salads, fruit, breads, olives, cold meats and cakes. A barbecue was also set up, manned by Peter Gott of Silfield Farm, to serve surely some of the best quality meat in the country from the various market farmers. Tables and chairs from Southwark Cathedral filled the vast covered market area and the residents sat around them enjoying their feast in the unique, atmospheric venue.
Invitation to such an event in the country's most popular market is the kind of hot ticket that people would willingly pay a fortune for. But, thanks to the generosity of the market traders and Vinopolis and the volunteers who helped, the residents paid just £4 each (£2 for kids) for the privilege.