An early computer-generated image of a proposed development at the north end of Blackfriars Road has been released.

Image shows scheme as planned by Sainsbury's; the site and project has now been taken on by Land Securities who will be producing new plans
Although the picture includes the historic buildings north of Christ Church these are now due to be demolished according to those working on the Land Securities plan which will enclose two sides of the church.
The threatened buildings include the
Paper Moon
pub which is well known for its Carter's tiles depicting William Shakespeare enjoying refreshment at a Southwark inn.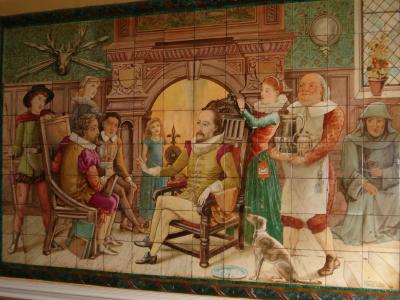 Also due to be demolished is the former James Adams & Son shop which now displays 'The National Society of Operative Printers & Assistants' on its headboard and is depicted in stained glass at next door
Christ Church
.
The developers have so far given only a brief outline of their plans to the Bankside Residents Forum. More recently they discussed the impact of the building with
Bankside Open Spaces Trust
which manages Christ Church Garden.
Members of Christ Church congregation and neighbours have complained about a lack of consultation after Land Securities attempted a meeting at short notice in August when many people were on holiday. The pub management claims that it heard about the proposals from a customer.
The site was until recently owned by Sainsbury's whose headquarters was in Stamford Street.
Story updated on 15 September for clarity