The London Eye was closed to visitors on Saturday after a fathers' rights protester in a Spiderman costume scaled the wheel in the early hours of the morning.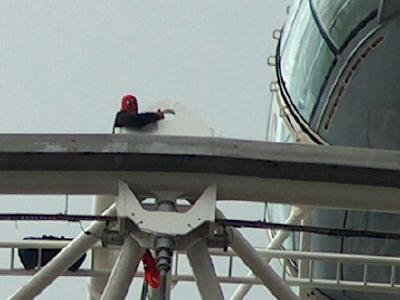 The protester at the top of the wheel
It is understood that the demonstrator passed himself off as a maintenance worker in order to gain access to the site at approximately 4am on Saturday morning. A
London Eye
spokeswoman described the incident as an "unacceptable breach of our security".
The demonstrator is thought to be David Chick, who spent six days up a crane on the north side of Tower Bridge last year.
The activist unfurled banners bearing the slogans "In the name of the Father" and "Used and abused by the family courts".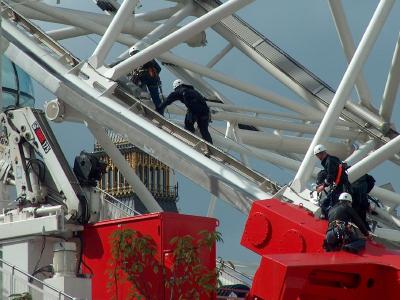 Police climbers scaling the wheel
The riverside observation wheel would normally expect around 15,000 visitors on a September Saturday. Refunds will be issued to the 5,000 holders of pre-booked tickets.

Fathers for Justice spokesman Glen Poole talking to Sky News
Speaking to the London SE1 website, Fathers for Justice spokesman Glen Poole stressed that this is not an official demonstration by the group. As well as the obvious significance of a protest on 11 September, the demo coincides with the pressure group's annual conference in the West Midlands. Furthermore, a Fathers for Justice demonstrator is due to stand trial on Monday for his part in the flour bomb attack in the House of Commons earlier this year.
At 10.15pm the 37-year-old man came down voluntarily, and was taken to hospital for medical checks.
 
He has been arrested and will be interviewed at a South London police station.