Simon Hughes MP and council leader Nick Stanton posed outside Bermondsey Street Post Office on Wednesday morning to mark the final day of Southwark Lib Dems' 'Saving our Post Offices' campaign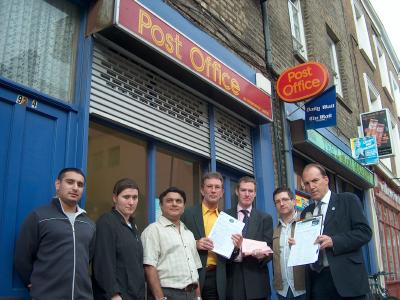 The petition organised by the Lib Dems in protest against the proposed closure of
Bermondsey Street
and
Abbey Street
post offices has received at least 2500 signatures.
Separate petitions organised by residents' groups received 1500 signatures in support of Bermondsey Street and 500 in favour of the retention of the Abbey Street office.
It is expected that Postwatch will formally object to the Bermondsey Street closure.
On Tuesday night Southwark Council's executive passed a motion in support of the post offices, and the full council is expected to pass a similar motion on Wednesday night.
Simon Hughes and community leaders are involved in discussions to find a new postmaster and possible new premises for a post office in Bermondsey Street.
"Bermondsey Community Council is against the closure of Abbey Street and Bermondsey Street sub-post offices and I have made that very clear to Post Office Limited" says Cllr Beverley Bassom, chair of Bermondsey Community Council.
"Post Office Limited has been very sketchy about the volume of business it receives from our area and I have called on the management to make these figures public so that we can judge for ourselves how viable our local post offices are.
"Closure need not be an option as I understand that there is somebody willing and available to take over the running of one or both the post offices.
Cllr Linda Manchester, councillor for Grange Ward, said: "Aside from anything else, post offices offer an invaluable service and community support for elderly and vulnerable residents. We have seen and received several petitions that show the value local residents place on this service and we will be fighting this all the way."