Doctors who spend their working week saving the lives of critically ill children have cycled 400 miles in just four days to raise money to equip the South Bank's new children's hospital.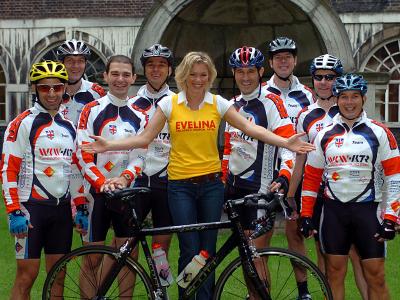 Tom Festa, Owen Core, Marino Festa, Mark Thewlis, Nell McAndrew, Simon Savagnargues, Mike Cook, Kevin Fack, Terry Fox (photo: Elliot Franks)
All donations go to the Evelina Children's Hospital Appeal which aims to raise £10 million to help provide vital equipment and furniture for the new Evelina Children's Hospital which opens on the
St Thomas' Hospital
site in 2005.
Cyclists include three children's doctors – Marino Festa, Chris Reid and John Simpson – as well as intensive care technician Terry Fox.
The new Evelina Children's Hospital, which will bring together all children's inpatient services at Guy's and St Thomas' under one roof in a state-of-the-art building, is London's first new children's hospital for more than 100 years.
Currently children's services at Guy's and St Thomas' – which provide specialist care for youngsters from all over south east England – are scattered across the two hospitals.
Nell McAndrew, model and TV personality, waved the cyclists off on their epic trip at 7.40am on Thursday at Guy's Hospital, where most of the children's wards are currently based. The charity ride finished on Sunday at St Thomas' Hospital, where the new children's hospital is under construction.
The cyclists will visit all 20 local hospitals throughout south east England which use the South Thames Retrieval Service – run by Guy's and St Thomas' – to transport critically ill children to paediatric intensive care units (PICUs) at Guy's and other London hospitals.
Last year the Service's emergency ambulances, which are staffed by highly skilled doctors and nurses, transferred more than 600 children from hospitals in south east England to PICUs where they can receive the specialised care they need.
Nell McAndrew said: "Many children's lives depend on the Evelina Children's hospital so it's really important that people help support the appeal for the new Hospital which is being built."
"The retrieval service is a good example of how the Evelina ensures that children across the south east get the specialist treatment they need as swiftly as possible. Dr Festa and his fellow cyclists deserve all our support to make their gruelling cycle worthwhile. I'm looking forward to waving them off at the start of their ride" Nell added.
Dr Marino Festa says: "I cycle to work every day and there are a number of other keen cyclists here in the Evelina Children's Hospital so I came up with the idea of this epic bike ride to raise money for the new hospital.