Temporary hoardings on the southern side of Tate Modern have been transformed thanks to a commission produced by internationally acclaimed artist Lisa Ruyter.
The work going on behind the hoardings involves the construction of a cable tunnel under the Thames between Ludgate Circus and the substation at
Tate Modern
.
To recognise the impact this work may have on some residents and businesses the company has made donations to a number of community projects, including the installation of Ruyter's Can't see the Forest for the Trees.
Ruyter, who lives and works between New York and Salzburg, combines photography, painting and film in a very particular way. Snapshots of everyday scenes are projected onto a monochrome surface, then filled in with large blocks of colour, without any tonal variation and not necessarily reflecting the colour the object would originally have been.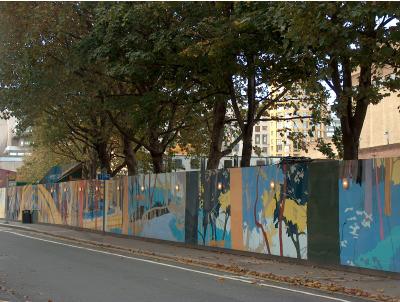 "I chose the title because I like the relationship between the phrase 'Can't See the Forest for the Trees', commonly understood to describe being so lost in the small details of life that the big picture becomes invisible, and the relationship between abstractions and photograph-derived figuration in the work," said Rutyer.
EDF Energy's Director of Asset Management, Alan Feakins, whose team is leading the project, said: "The work we are carrying out in the Bankside area is a major project to improve the electricity supply infrastructure to a large part of London. While we are doing this we wanted to give something back to the community in the immediate area and were delighted to work with Tate Modern and Lisa Ruyter to produce this stunning piece of art that will brighten up the area."
Ruyter's work will stay in place until next spring, when a second commission will be unveiled. The second work will stay in place for approximately six months, by which time EDF Energy's project should be completed.
During the work EDF Energy has also supported Bankside Residents Forum, Better Bankside Green Grants Panel and a community gardener position with Bankside Open Spaces Trust.