The Princess Royal came to Waterloo station's concourse on Tuesday afternoon to unveil a new bronze sculpture of noted artist Terence Cuneo.

The Princess Royal unveils the sculpture
Philip Jackson was commissioned by the Terence Cuneo Memorial Trust to create a permanent memorial to the artist who died in 1996. Network Rail agreed to locate the sculpture on the balcony overlooking the Eurostar terminal at Waterloo. The Princess Royal described the location as a "tremendous site" for the sculpture.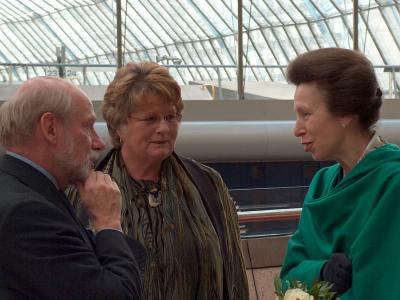 The Princess in conversation with scuptor Philip Jackson and Terence Cuneo's daughter Carole
Cuneo is best-known for his railway paintings, including an iconic image of the bustling concourse of Waterloo station in 1967.
In 1953 he was the official artist for the Coronation painting of Queen Elizabeth II. During the ceremony at Waterloo the Princess Royal spoke of how she had grown up with Cuneo's work, seeing it "literally every day" when using the lift at Buckingham Palace.


The sculpture incorporates a mouse – a reference to Cuneo's habit of including a rodent in each of his paintings
The Cuneo sculpture is Jackson's sixth public work in London. His recent works include the Jubilee Statue unveiled by HM The Queen in Windsor Great Park last year.
"We are delighted to have achieved the trust's objective to have a scupture of Cuneo to celebrate this great man's achievements" commented Sir William McAlpine, chairman of the Memorial Trust. "To have one of Brtiain's most pre-eminent sculptors create this work of art makes it even more special. It is also a great honour that HRH The Princess Royal is performing the unveiling and marks the close relationship Cuneo had with the Royal Family. Carol Cuneo and family have spent a great deal of time and effort bringing this this project to fruition and we are all sure that he would have been thrilled with this stature and to be remembered in such an important railway location."
The sculpture has been financed by donations from a variety of sources. The list of contributors was headed up by HM The Queen.
During the ceremony the Princess also presented a cheque for £1,500 to Veronica Smirnoff, a student from University College London's Slade School of Fine Art. The Terence Cuneo Memorial Trust intends to endow an ongoing annual prize for the Slade's best undergraduate student to commemorate Terence Cuneo who was a student at the Slade. The Princess, who is Chancellor of the University of London, described the prize as a "fitting memorial" and "long-term testament".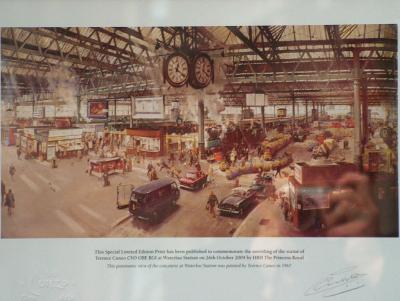 Commemorative print

Isle of Man Post Office First Day Cover
Commemorative prints of Cuneo's 1967 painting of Waterloo station were on sale at the event, along with a special first day cover produced by the Isle of Man Post Office.