Dozens of wannabe Father Christmases converged on the Garry Weston Library at Southwark Cathedral on Monday for a crash course in how to be a good Santa Claus.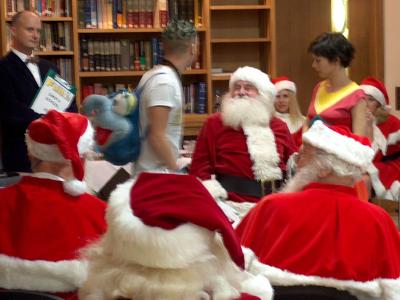 The event was staged by the
Great Suffolk Street
-based Ministry of Fun. James Lovell, Director of the Santa School – blames the commercialisation of Christmas for a decline in the number of grottos where children can visit Father Christmas ahead of 25 December: "We have noticed that the magic of Father Christmas – the ingredient that makes him special – has been gradually erorded over the last few years.
"Harrods opened a Christmas shop in the middle of Summer, for goodness' sake!"

The
Ministry of Fun
claims that standards have fallen and that their training course is essential to restore the magic of Father Christmas.
The student Santas were briefed on current music trends and the latest toys and games. They were also given tips on dealing patiently with awkward customers and learnt how to send Christmas greetings in at least a dozen languages.