Dozens of Bankside residents learnt how to make a difference to the environment in their daily lives last week by getting involved at the Energy Efficiency and Climate Change Roadshow at Southwark Cathedral.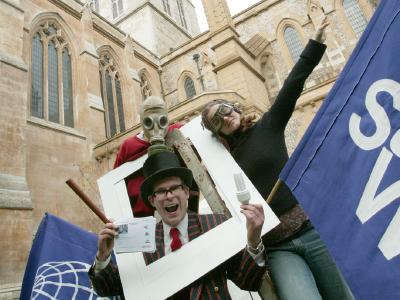 Every year, Energy Efficiency Week shows householders how to make immediate and easy differences to energy efficiency in their homes, resulting in the average UK resident saving £200 a year on energy bills. South East London Energy Efficiency Advice Centre, in partnership with
Southwark Council
and Save Our World, helped Southwark celebrate the week with street theatre on climate change, energy efficiency advice stalls and free low-energy lightbulbs in return for filling in an energy efficiency home survey. Everyone who completed a survey will receive a tailor-made list of energy-saving tips to try in their home in November, just in time to fight the winter chill.
Sreet theatre performances by Save Our World drew in the crowds, many of whom made pledges to make basic changes in their home lives which can help fight climate change. Some easy tips recommended by the Energy Saving Trust can be started today:


• swap one traditional light bulb for a new, low energy one
• when the heating needs to go on, turn down thermostats by 1 degree
• switch appliances off standby
• turn the lights out when leaving a room
• only boil enough water in the kettle to meet your needs

To help you make improvements in your home, South East London Energy Efficiency Advice Centre provides free and impartial advice on energy efficiency and ways to reduce your fuel bills via the advice line on 0800 512 012 or email at
seleeac@sustainable-energy.org.uk
">
seleeac@sustainable-energy.org.uk