A worldwide campaign to commemorate the victims of the former dictatorship in Chile with an international forest came to the Geraldine Mary Harmsworth Park at the end of October.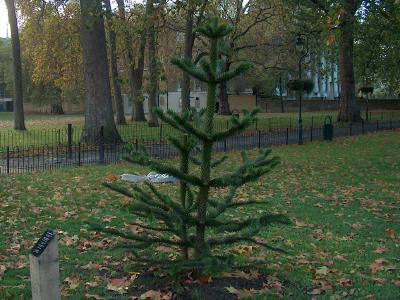 The event marked the 30th anniversary of a young couple's 'disappearance' by planting two trees in London on Saturday 30 October. The Human Rights International Project is planting a tree for each and every victim as part of its Ecomemoria campaign, and these will be the first in London.
The 1974 'disappearance' of Jacqueline Drouilly Yurich and her husband Marcelo Salinas Eytel was marked by the planting of two Chilean Araucarias (Monkey Puzzle trees) and the dedication of two plaques at the park entrance.
The first tree was planted by Simon Hughes MP and Nicole Drouilly, sister of Jacqueline. She explained: "Creating monuments like this tells us that justice is not just some abstract concept. It is about real people of flesh and blood and how they are treated. We are making two small physical reminders of people who lived and breathed and were dear to us – reminders that are part of a growing monument to what happened and the need to prevent it happening again. We must establish a system of accountability for crimes against humanity."
The London event is the latest part of the Ecomemoria project, which was launched in Brill, Buckinghamshire in February 2002 and has already planted 82 trees in 6 countries as part of the planned creation of a 'virtual' worldwide forest in commemoration of 4,197 victims of the 1973 coup in Chile and the Pinochet dictatorship that followed it.