Bill Nighy, Roger Lloyd Pack and Imelda Staunton were among the leading actors who gathered in Tooley Street on Friday to launch an appeal to raise the final £1.6 million for the new Unicorn Theatre for children.
Edward Fox, Bill Nighy, Imelda Staunton, Celia Imrie, Joanna David, Gemma Jones, Jane Asher, Arabella Weir, Roger Lloyd Pack, Jared Harris and Jim Carter launched the appeal in the shell of the new children's theatre in
Tooley Street
, due to open in Autumn 2005. A final £1.6 million is required to reach the £12.6 million funding target.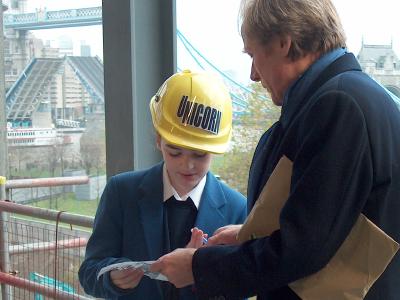 A young fan asks Bill Nighy for his autograph
The stars were joined by children from the Unicorn's Young Consultants group who have worked with Keith Williams Architects for three years to design the theatre.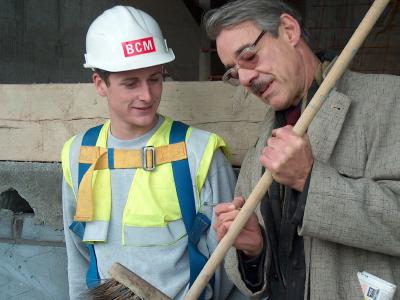 Roger Lloyd Pack, who played Trigger – Britain's most famous roadsweeper – in Only Fools and Horses – signs a broom for construction workers at the Unicorn site.
The public is invited to contribute to the appeal and have their names displayed alongside other supporters including Robbie Williams and Dame Judi Dench. "The appeal enables people from all walks of life to help create a building that will benefit the lives of all the UK's children for generations to come," said artistic director Tony Graham.
• Unicorn Theatre website