City of London Police are appealing for witnesses after a Royal Mail van was hijacked in Fleet Street and driven across Blackfriars Bridge to be unloaded in SE1's Burrell Street.
Burrell Street">
The abandoned van in Burrell Street, off Blackfriars Road
Police say that at about 10.30am on Friday 26 November a post office van was making delivery to a bank in Fleet Street. When the driver was alone in the van, two men jumped in, put him in a head lock and punched him.
They then took the van to Burrell Street, SE1, ejecting the driver on Blackfriars Bridge in the process. At Burrell Street they transferred the contents into a waiting F-reg Vauxhall Carlton. They then left but returned a few minutes later, possibly to take something that they had forgotten.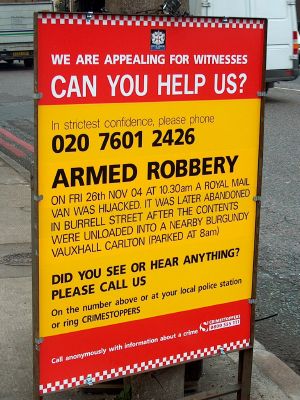 Burrell Street">
Police appeal board in Southwark Street
City of London Police are trying to identify the men who carried out this attack and are looking for the Vauxhall Carlton. If you saw anything or know who the men might be or the whereabouts of the car please call Snow Hill CID on 020 7601 2478, or anonymously call Crimestoppers on 0800 555 111.