Hospital staff from chefs to opthalmologists have been recognised for their long service, hard work and loyalty to Guy's and St Thomas' hospitals at a special awards ceremony.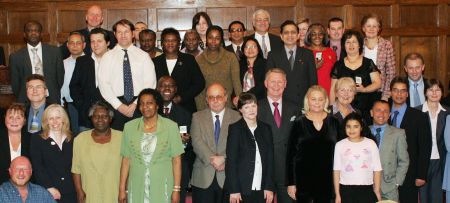 The Long Service Awards ceremony was held recently at St Thomas' for 80 members of staff who have worked for the Trust for at least 20 years – accruing a massive total of 2,067 years service between them.
Trust Chairman Patricia Moberly presented gold and silver badges to the staff, as Chief Executive Dr Jonathan Michael read out a summary of each person's contribution to the Trust over the years.
Hospitality manager Terry Strange was presented with a gold badge for his 29 years of service.
Terry, started working at Guy's Hospital in 1975 as a chef, said: "I originally joined to help the catering manager for one year and 29 years later I'm still here, although it doesn't feel like that long! I've enjoyed it and have seen lots of changes."
Medical Opthalmologist Dr Elizabeth Graham received a gold badge for her 25 years' service. She has spent most of her working life at St Thomas' and even trained as a doctor at the medical school on the hospital site. Over the years she has become a pioneer of eye medicine and earned an international reputation for herself and her Unit, which attracts referrals and complex cases from all over the country.
Norma Lewis was presented with a gold badge for 25 years of hard work as a Housekeeping Assistant at Guy's. In all her years of service she has never been late or had time off sick. She said: "I've enjoyed my time here and have been very happy. I can't believe it's been 25 years! I've seen lots of people come and go but I decided to stay."
Trust Chairman Patricia Moberly said: "The presentation evening is one of my favourite events of the year because it reminds us how significant all staff are in the running of the Trust and we believe it is important to show how grateful we are for all their hard work."